HK-SZ youth pact signed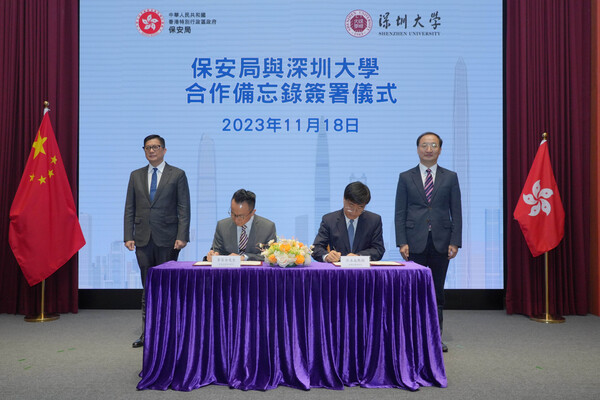 The Security Bureau (SB) today signed a memorandum of understanding (MOU) with Shenzhen University to jointly promote Hong Kong-Shenzhen youth development and co-operation on cultural exchanges, deepening its work in nurturing young people.
It also held an induction course for members of the new-term SB Youth Uniformed Group Leaders Forum to launch training activities in the coming year.
The MOU enables the two sides to co-organise activities in the coming three years, with 15 students from Shenzhen University joining the forum's activities to enhance exchanges between youths in Hong Kong and Shenzhen.
At the signing ceremony, Secretary for Security Tang Ping-keung said Shenzhen University has the nation's top academic talent and teaching resources, noting that it will provide teaching guidance and arrange visits for the forum, including visits to government departments, scientific research and cultural institutions as well as major enterprises, to help members obtain a deeper understanding of the country's development.
Apart from organising training camps and visit activities to provide teamwork and leadership training, the SB will also hold seminars and study tours to allow members to learn more about the country and broaden their horizons, Mr Tang added.
The bureau established the forum in October last year to deepen the participation of government departments and civil services in youth work. The forum's new term comprises 29 young people who are distinguished members of various youth uniformed groups of disciplined services with great potential.
The two-day, one-night induction course marks the beginning of the forum's training activities in the coming year. In addition to training in discipline, physical fitness and team building, a number of distinguished personalities from different sectors were invited to share their experiences.