Health chief views centre revamp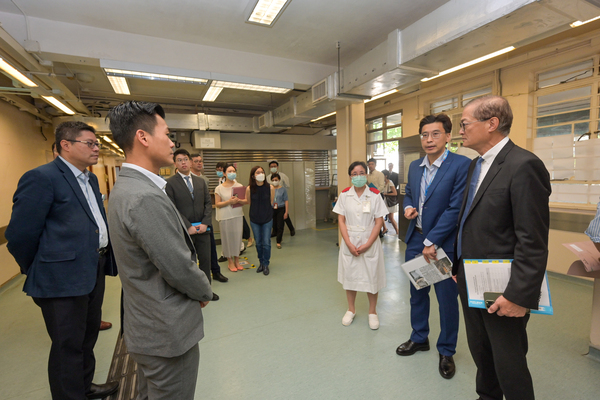 Secretary for Health Prof Lo Chung-mau today visited the Shek Kip Mei Health Centre and the temporary Shek Kip Mei General Out-patient Clinic to get a better grasp of the health centre's redevelopment and the setting up of the temporary clinic as a result of the overhaul.
Located on Berwick Street, the Shek Kip Mei Health Centre's facilities, having been in service for over 60 years, are in a state of dilapidation. Taking into account the ageing and growing population, the Government expects a mounting demand for primary healthcare services by the Sham Shui Po community. In this connection, the Health Bureau plans to demolish the health centre and build in-situ a community health centre (CHC) building.
While the Hospital Authority will provide CHC and general out-patient services, the proposed building will also house several facilities of the Department of Health, including a chest clinic, a maternal and child health centre and a dermatological clinic.
Prof Lo said: "The proposed CHC building will serve members of the public with diversified primary healthcare and nursing services at one single location by consolidating public primary healthcare service facilities in the district. Upon commissioning of the building, we will increase the quotas of general out-patient services in phases, with an expectation of some 154,000 additional quotas at maximum each year."
Noting that the redevelopment secured support from the Sham Shui Po District Council last year, he added that the Health Bureau is working to seek funding approval from the Legislative Council, with a view to starting construction at the earliest instance.
The general out-patient services originally provided at the Shek Kip Mei Health Centre have been relocated to a temporary clinic set up at Mei Hei House in Shek Kip Mei Estate.
Inspecting its operation, Prof Lo said the clinic is a transitional arrangement aiming to offer appropriate and coherent primary healthcare services to patients in the district before the commissioning of the proposed Shek Kip Mei CHC.