HK athletes score 7 more medals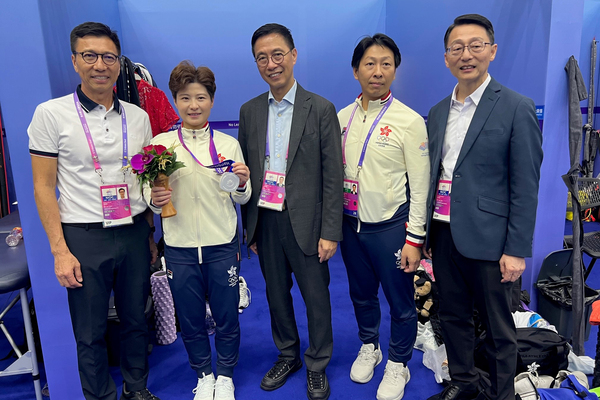 The Hong Kong delegation today won one gold medal, four silver and two bronze medals at the 19th Asian Games Hangzhou.
Among them, swimmer Siobhan Haughey reaped a gold medal in the Women's 200m Freestyle.
Secretary for Culture, Sports & Tourism Kevin Yeung said: "Miss Haughey won gold with her outstanding performance and brought glory to Hong Kong again, making all Hong Kong citizens proud."
Taking home silver medals were Cheung Hoi-lam and Leung King-wan in the Rowing Women's Pair event, Liu Xuxu in the Wushu Women's Changquan, Samuel Hui in the Wushu Men's Taijiquan & Taijijian All-Round, and Ian Ho in Men's 50m Freestyle.
Meanwhile, rower Chiu Hin-chun and fencer Daphne Chan grabbed bronze medals in the Men's Single Sculls and Women's Foil Individual.
The Hong Kong team has so far won 14 medals in this year's Asian Games, including three golds, four silvers and seven bronzes.
"I also wish Hong Kong athletes more excellent results in the upcoming events," Mr Yeung added.
During his Hangzhou visit today, Mr Yeung met China General Administration of Sport Director Gao Zhidan. He also toured the Xiaoshan Guali Sports Centre where he watched Hong Kong athletes take part in Wushu competitions. Afterwards, he saw several other matches in the Hangzhou Olympic Sports Centre Aquatic Sports Arena.
Mr Yeung will return to Hong Kong tomorrow.