Fencers, swimmers win medals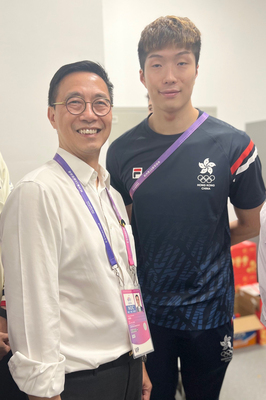 Secretary for Culture, Sports & Tourism Kevin Yeung today congratulated three Hong Kong fencing athletes on winning medals at the 19th Asian Games Hangzhou.
Cheung Ka-long won a gold medal and Ryan Choi scored a bronze in the Men's Foil Individual event, while Vivian Kong took a bronze medal in the Women's Épée Individual event.
Mr Yeung also congratulated Hong Kong swimmer Siobhan Bernadette Haughey on winning a bronze medal in the Women's 50m Breaststroke. She and Tam Hoi-lam, Camille Cheng and Stephanie Au also won bronze in the Women's 4x100m Freestyle Relay.
Mr Yeung said the three fencing athletes had shown superb skills and performed well throughout the competition.
"I am very pleased with their excellent performance, as well as their demonstration of the demeanour of great athletes," he said. "I believe all of us will share the joy."
Referring to the swimming results, Mr Yeung said Hong Kong would be thrilled by Haughey's well-deserved victory.
He said Haughey and her teammates had demonstrated remarkable team spirit in the relay event to achieve an outstanding result, and wished the swimming athletes all the best in their upcoming events.