HK legal services promoted in Hainan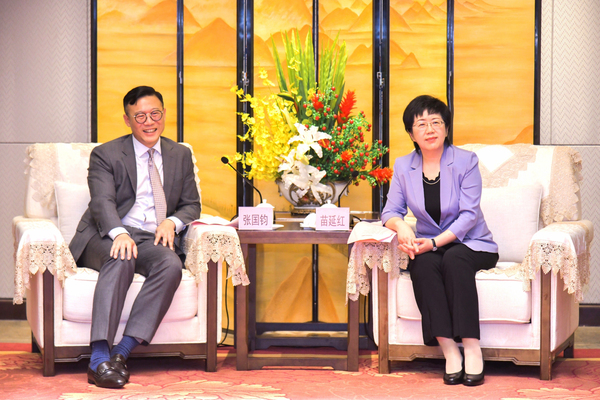 Deputy Secretary for Justice Cheung Kwok-kwan, leading a Hong Kong delegation, attended a seminar today in Hainan to promote the unique strengths of Hong Kong's legal and dispute resolution services, strengthen Hainan-Hong Kong collaboration, and help Hainan enterprises go global.
Under the theme of "strengthening Hainan-Hong Kong co-operation for mutual benefit and win-win results", the seminar, joined by some 280 participants from Mainland enterprises and the legal sector, was held in Hainan for the first time.
Officiating at the opening ceremony, Mr Cheung said the seminar provided a valuable platform for promoting co-operation between Hainan and Hong Kong, both situated in strategic locations along the Belt & Road, to support Hainan in expediting its development into a globally influential and high-level free trade port.
With its strategic positioning as a centre for international legal and dispute resolution services in the Asia-Pacific region, and the advantages of enjoying the strong support of the motherland while being closely connected to the world, Hong Kong can play the role of a super-connector which bridges Hainan with global markets, he pointed out.
Moreover, Hong Kong's legal professional sector can provide Hainan enterprises with comprehensive support in terms of legal and dispute resolution services, Mr Cheung added.
The opening ceremony was followed by three panel thematic sessions on the advantages of Hong Kong's cross-boundary legal services, co-operation of legal services, and capacity building of Hainan-Hong Kong legal talent.
Before the seminar, Mr Cheung met Hainan Vice Governor Cai Zhaohui to discuss strengthening co-operation between the two places, and the role of Hong Kong's legal and dispute resolution services in promoting Hainan's development.
The delegation then joined an exchange forum on Hainan-Hong Kong legal services co-operation and met local legal professionals to learn about the policy of the Hainan Free Trade Port development. Mr Cheung also visited the first partnership association set up between Hainan and Hong Kong law firms.
During the stay in Hainan yesterday, Mr Cheung and the delegation had a meeting with CPC Hainan Provincial Committee Standing Committee Member and CPC Hainan Committee United Front Work Department Head Miao Yanhong to exchange views on issues including the capitalisation of Hong Kong's professional services and the deepening of Hong Kong-Hainan exchanges.
The delegation returned to Hong Kong this evening.