Tunnel toll scheme set for Aug 2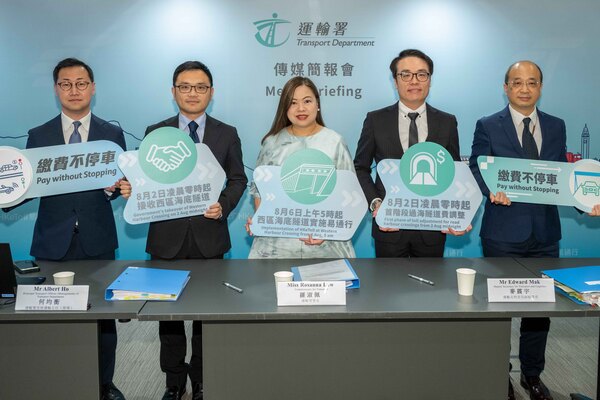 The Transport Department reminded the public today that the "633" fixed toll scheme will be implemented in the Western Harbour Crossing (WHC), Cross-Harbour Tunnel and Eastern Harbour Crossing (EHC) at midnight on August 2.

Apart from briefly closing the WHC and the EHC for about five minutes to facilitate the renewal of the toll collection facilities, the department explained that it will not implement temporary road closures or route diversions in the vicinity of the tunnels.

Under the "633" fixed toll scheme, the fixed toll for private cars using the WHC will be lowered to $60, while that for the CHT and the EHC will be adjusted to $30. Cross-harbour taxis will be charged an all-day fixed toll of $25 for the three road harbour crossings.

Separately, the HKeToll will be implemented in the WHC from 5am on August 6. Motorists can drive through the toll plaza and pay tunnel tolls using the HKeToll without having to stop or queue at toll booths for payments. All manual toll booths and Autotoll lanes will be cancelled.

To tie in with the implementation of the HKeToll, temporary traffic arrangements will be implemented in phases in the vicinity of the WHC starting at 10pm on August 5.

The speed limit on the West Kowloon Highway towards Hong Kong Island will be reduced to 70km per hour starting from Hoi Ying Estate, and will be reduced to 50km per hour near Olympian City 1 and beyond. Both directions of the WHC and the slip roads leading to the harbour crossing will be closed from 4am to 5am on August 6.