Health chief views hospital tech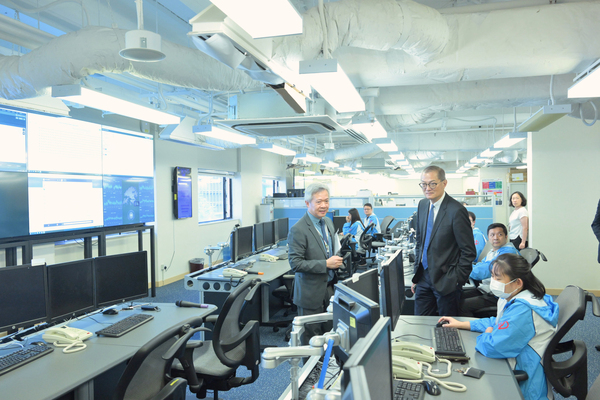 Secretary for Health Prof Lo Chung-mau today visited the Hospital Authority's information technology (IT) and innovation facilities for an update on the use of technology to enhance its clinical and medical services.
Prof Lo toured the authority's IT Command Centre to learn more about the work on upgrading its information technology system as well as securing its operation and maintenance.
He then proceeded to the Data Collaboration Lab and the AI Lab to understand the work on healthcare data analytics, and was briefed on the support given to the development of the Electronic Health Record Sharing System (eHealth).
The health chief also visited the IT Innovation Lab to know more about the development progress of smart hospitals.
Prof Lo said: "The Hospital Authority, in support of the direction set out in the Policy Address, has established a dedicated team to drive the potential use of healthcare data for research and development by more institutions in collaboration with the authority, and enable the institutions to make use of the public hospital network for research and clinical trial purposes."
Regarding eHealth, he said work is being done to transform it into a comprehensive and integrated information infrastructure with a patient-centric perspective under the "one patient, one health record" principle so that an upgraded version will form a backbone for supporting healthcare development.
Prof Lo also noted that developing smart hospitals is a key strategy for the sustainable development of the public healthcare system, adding that with the assistance of 5G remote diagnosis and treatment technology as well as smart robots, healthcare staff can provide high quality services to patients.
"These technologies can also alleviate, in the long run, the imbalance of manpower supply and service demands faced by the public healthcare system."