John Lee meets Congo president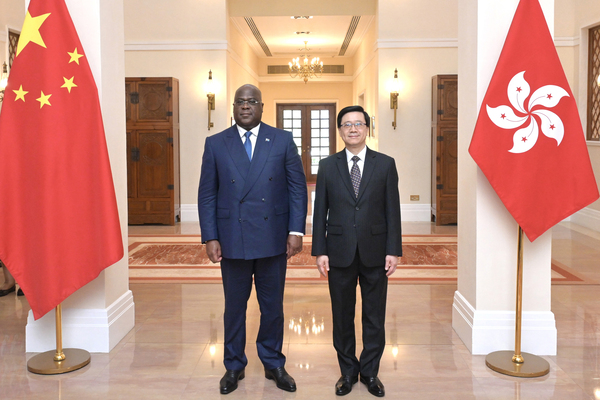 Chief Executive John Lee met Democratic Republic of the Congo (DRC) President Félix-Antoine Tshisekedi Tshilombo at Government House today to exchange views on matters of common interest.
After welcoming Mr Tshisekedi to Hong Kong, Mr Lee pointed out that the city has maintained cordial trade relations with the DRC and with an average annual growth of 12% over the past five years in total merchandise trade between the two places, he saw good potential to further enhance bilateral business and trade co-operation.
"Hong Kong is a leading international financial centre with boundless opportunities, bringing together talent and capital from all over the world."
The Chief Executive added that under the "one country, two systems" principle, Hong Kong also reaps the unique benefits of enjoying strong national support while maintaining unparalleled connectivity with the world.
"The city is well-positioned to serve as a key link for the Democratic Republic of the Congo and other African countries to jointly promote the development of the Belt & Road Initiative."
Mr Lee also stressed that many Hong Kong enterprises have vast experience in investing in and taking up overseas infrastructure projects, and will embrace opportunities in the DRC to expand their businesses.