Revamped Aberdeen Market opens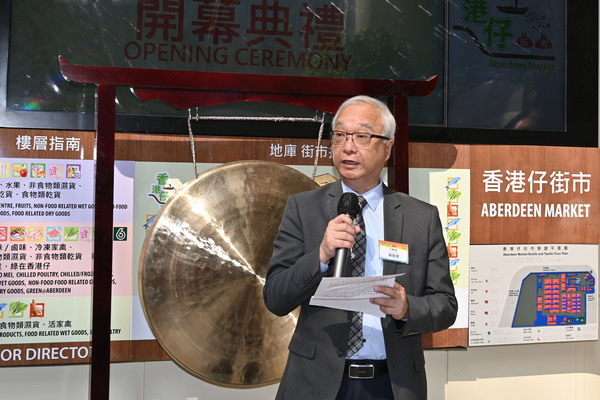 Secretary for Environment & Ecology Tse Chin-wan officiated at the opening ceremony of the overhauled Aberdeen Market today.
The market, under the Food & Environmental Hygiene Department (FEHD), adopts a modern design and layout, including delineation of stalls according to trade types, stall enlargement, passageways widening and an increase in public spaces.
It is also equipped with baby care and breastfeeding rooms and a multipurpose space for holding market promotion events.
New facilities such as a recycling store, barrier-free facilities and a separate storage room for temporary storage of carcasses are available.
The market provides 142 stalls, the majority of which started business from April 26 and have been operating smoothly.
The market's new environment and facilities have been well-received by the public.
Mr Tse said at the opening ceremony that Aberdeen Market's overhaul is a pioneering project of the Market Modernisation Programme (MMP).
The programme aims to enhance the business environment for tenants and the competitiveness of markets through improvement works, while at the same time providing patrons with a more pleasant shopping experience.
Apart from Aberdeen Market, the FEHD is pressing ahead with the other five overhaul or redevelopment projects announced under the MMP.
Among them, Lai Wan Market has been closed since February this year for an overhaul and is expected to reopen before the Lunar New Year in 2024 at the earliest.
The FEHD is also carrying out preparatory and consultation work for other proposed overhaul or redevelopment projects, which include Yeung Uk Road Market, Ngau Tau Kok Market, Kowloon City Market and North Kwai Chung Market.