Ingrid Yeung visits Highways Dept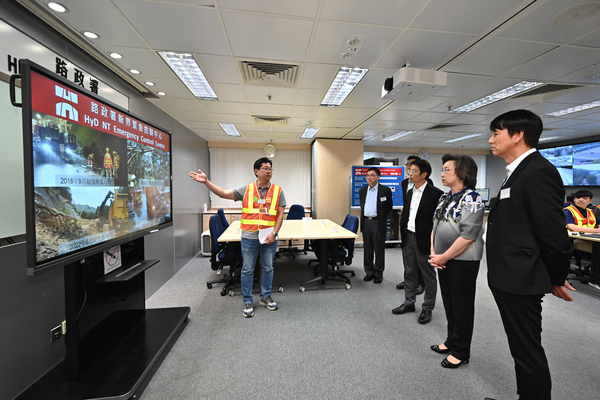 Secretary for the Civil Service Ingrid Yeung today visited the Highways Department to gain an understanding of the daily operations of the offices that manage major highway projects and handle traffic emergencies.
Mrs Yeung was briefed by Director of Highways Jimmy Chan and directorate staff on the department's latest developments. She also met staff representatives of various grades to exchange views on matters of concern.
During the meeting with staff, she spoke on the proposals on improving governance at the district level announced earlier, saying that the Highways Department is one of the departments in frequent contact with the District Councils.
Mrs Yeung noted that for the implementation of projects or planning at the district level in the past, government departments encountered fragmented opinions and demands raised by district councillors concerning particular small constituency areas.
If district affairs can be taken care of from a more macro perspective in future, it can pave the way for better planning of projects or services and enhance the effectiveness in district governance to the people's benefit, she added.
The civil service chief was briefed by the department's Major Works Project Management Office on the use of Building Information Modelling in the Central Kowloon Route project, including the display of project designs and working environment at construction sites by 3D imagery that assists in planning throughout the construction process and enhances management.
The office also introduced Mrs Yeung to the Smart Site Management Hub developed under the Central Kowloon Route project which enables project teams to keep track of site conditions to facilitate project management.
She said: "Highly accessible road and railway networks not only facilitate economic development but also improve community environments and people's quality of life. I hope that colleagues would continue to uphold the citizen-oriented service ethos."
Mrs Yeung also called on the New Territories Emergency Control Centre to learn how it co-ordinates with the Transport Department's Emergency Transport Co-ordination Centre to monitor the conditions of major public roads during inclement weather and act promptly to clear obstructions on roads to maintain smooth traffic flows and protect the safety of road users.