Bernadette Linn visits MiC factories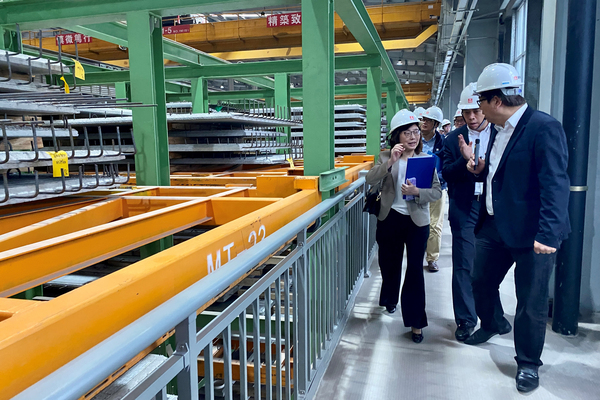 Secretary for Development Bernadette Linn today visited Jiangmen and Zhuhai to inspect the operation of the Modular Integrated Construction (MiC) manufacturing bases.
She learnt from her visit that the two manufacturers in both places have participated in the construction of MiC projects in Hong Kong, including the Multi-welfare Services Complex in Kwu Tung North, the Public Housing Development at Anderson Road and the Student Hostel of City University at Whitehead.
The manufacturers demonstrated to Ms Linn the modules adopted in various MiC projects and briefed her on the use of automated production lines in the factory to enhance production quality, accuracy and efficiency and the adoption of an information management platform to co-ordinate the processes of procurement, manufacturing, storage and delivery of modules.
She noted that the Hong Kong Special Administrative Region Government has been actively promoting MiC in the industry to reduce construction time and address issues such as the ageing of construction workers, high construction costs and site safety.
The Development Bureau has established a cross-departmental steering committee to co-ordinate the development of high productivity construction methods and streamline related approval procedures to remove barriers for the industry, Ms Linn said.
The purpose is to formulate measures to strengthen the supply chain and quality accreditation of MiC modules in this financial year, including the provision of manufacturing and storage sites in the Northern Metropolis as well as foster collaboration with the Greater Bay Area to expedite housing supply, she added.