Deputy SJ visits GZ, SZ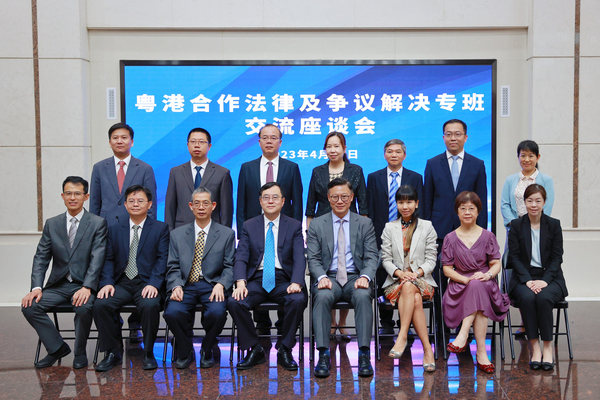 Deputy Secretary for Justice Cheung Kwok-kwan visited Guangzhou and Shenzhen today to enhance legal co-operation.
The Secretary for Justice established the Guangdong-Hong Kong-Macao Greater Bay Area (GBA) Task Force in January. Chaired by the Deputy Secretary for Justice, the task force has held its first meeting, focusing on enhancing the convergence of legal practices in the GBA, advancing the practice of mutual legal assistance, and promoting the development of online dispute resolution and the application of lawtech in the GBA.
Mr Cheung called on Guangdong's Department of Justice and met its Director-General Chen Xudong in Guangzhou.
At the meeting, further collaboration on legal and dispute resolutions in the GBA was explored to better the alignment and harmonisation of relevant mechanisms and practices, jointly capitalising on the bay area's unique strengths of "one country, two systems and three jurisdictions" to promote the building of the rule of law in the GBA.
Mr Cheung then met Shenzhen Municipal Government Deputy Secretary-General Huang Qiang this afternoon.
He also renewed the Co-operative Arrangement on Legal Matters for another five years after the meeting with the Shenzhen Municipal Government.
The renewed arrangement will continue to strengthen co-operation on legal matters between Hong Kong and Shenzhen and provide a robust exchange platform for the two cities' government departments and the legal sectors.
It will also support Hong Kong's position as an international centre for legal and dispute resolution services in the Asia-Pacific region as provided for under the National 14th Five-Year Plan.
Mr Cheung then visited the Shenzhen Qianhai Cooperation Zone People's Court (Qianhai Court) and the Shenzhen Court of International Arbitration (SCIA).
He exchanged views with Qianhai Court President Bian Fei and SCIA President Liu Xiaochun, on the development of and co-operation in dispute resolution related to Hong Kong, including the use of technology.