CE reviews fire services recruits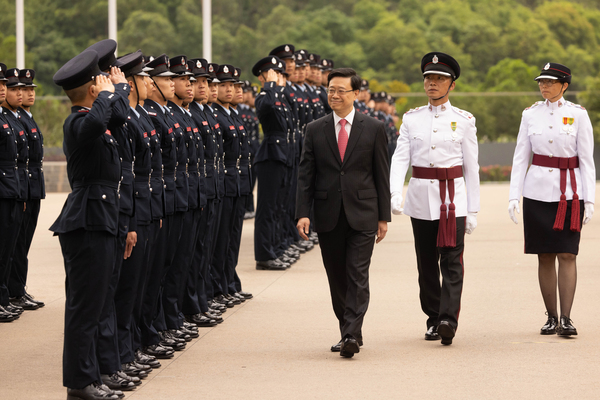 Chief Executive John Lee today reviewed the Fire Services passing-out parade for 13 station officers, 77 firemen and 53 ambulancemen or ambulancewomen at the Fire & Ambulance Services Academy.
Speaking at the parade, Mr Lee commended the Fire Services Department (FSD) personnel for their excellent training and equipment, and the active development of their specialised teams, which have been demonstrating exceptional rescue techniques and efficiency in disasters and incidents.
The FSD's Urban Search & Rescue Team was deployed as part of the Hong Kong Special Administrative Region rescue team to quake-stricken areas in Türkiye in February, where they participated in the search and rescue operation with the China rescue team.
Mr Lee pointed out that while it was the first time the team had participated in an overseas rescue mission, its members rescued four people who were trapped, showcasing to the international community their top-level emergency response capabilities.
The department and its Mainland counterparts have been maintaining close ties, and the FSD immediately arranged visits to the Mainland after the full resumption of normal travel between Hong Kong and the Mainland, he added.
Some graduates at today's ceremony included the first batch of trainees to attend the National Studies Course at the Guangdong Fire & Rescue Brigade. The course will also form part of the foundation training for Fire & Ambulance trainees.
Later this year, the FSD will also deploy various specialised teams to cities in the Guangdong-Hong Kong-Macao Greater Bay Area for technical exchanges, in addition to organising more courses and exchange sessions for its Mainland counterparts.
Mr Lee encouraged the graduates to equip themselves well and learn more about their motherland, uphold the FSD's professionalism, pursue excellence and work together with all sectors of the community to contribute to the development and prosperity of Hong Kong and the country.