HK, SZ healthcare officials meet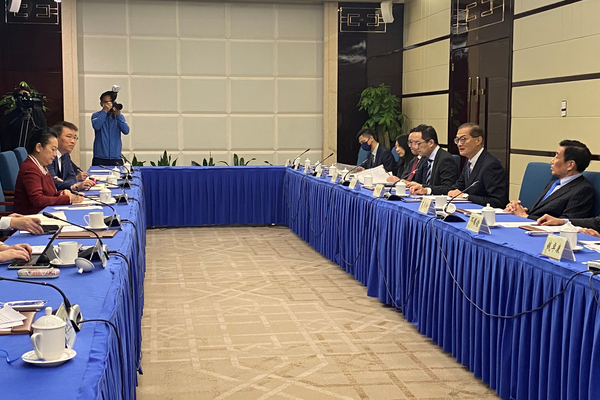 Secretary for Health Prof Lo Chung-mau and his delegation continued their visit to Guangdong today.
Meeting Shenzhen Municipal Health Commission Director General Wu Hongyan, Prof Lo said: "During the fifth wave of the COVID-19 epidemic in particular, the two places teamed up and co-operated in the monitoring and control of the epidemic as well as sharing of information."
The Hong Kong Special Administrative Region Government launched a special support scheme and commissioned the University of Hong Kong-Shenzhen Hospital to provide subsidised follow-up consultation services for the Hospital Authority's patients, he also pointed out.
"The Hong Kong SAR Government is currently planning to roll out a pilot scheme by taking reference from the success of the scheme so as to enable eligible people to keep enjoying subsidised consultation services at the University of Hong Kong-Shenzhen Hospital, with a view to exploring and planning an appropriate model in an effective manner to cater for the medical needs of Hong Kong residents residing in the Mainland cities within the Greater Bay Area."
In the afternoon, the delegation joined the launch ceremony of China's International Healthcare Accreditation Standards Hospital Accreditation.
Prof Lo noted that it was of particular significance for the delegation to attend the ceremony because in 2023-2024, two hospitals under the Hospital Authority will adopt the International Hospital Quality Accreditation Standards (2021 Version) compiled by the Shenzhen Hospital Accreditation Research Center.
"The move will contribute to the process for the nation's hospital accreditation standards to go global, while ensuring that the management and service levels of hospitals are on par with international standards," he added.