QEF's anniversary activities held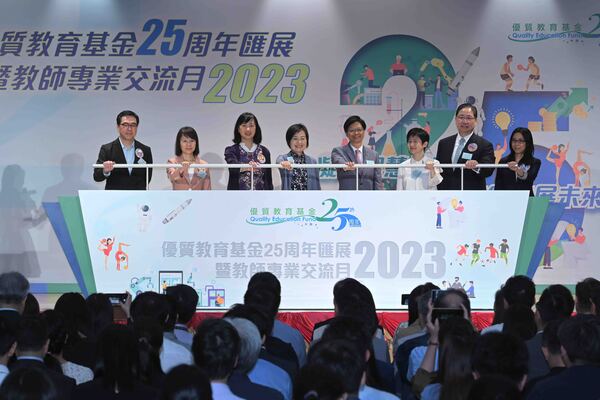 Secretary for Education Choi Yuk-lin today officiated at the opening ceremony of the Quality Education Fund 25th Anniversary Exposition cum Teachers' Professional Experience Sharing Month.
Speaking at the event, Ms Choi said the fund has allocated about $6.4 billion to fund over 13,000 projects so far, encouraging schools to try out innovative teaching pedagogies and helping schools implement all-rounded measures to support students' learning and development.
The fund has launched designated funding schemes in recent years to support diverse development of the school sector, including the Dedicated Funding Programme for Publicly-funded Schools starting from the 2018-19 school year. The fund also launched the My Pledge to Act funding programme in the 2019-20 school year and the enhanced funding programme in 2021 to provide schools with additional resources to foster students' positive values as well as implement national education and national security education.
This morning, thematic seminars were held on-site and online simultaneously, covering topics such as technology education, national education and positive education. There were also student performances, a QEF project exhibition, QEF Thematic Networks showcases with game booths and a QEF products sales booth.
Sharing sessions were conducted via live streaming in the afternoon, covering topics such as values education, STEAM education, early childhood education, creative education and national identity.
To celebrate the fund's 25th anniversary, a folder design competition and a pin design competition were held at the end of 2022. The winning works of the competitions will be printed on the fund's anniversary souvenirs.