CE reviews passing-out parade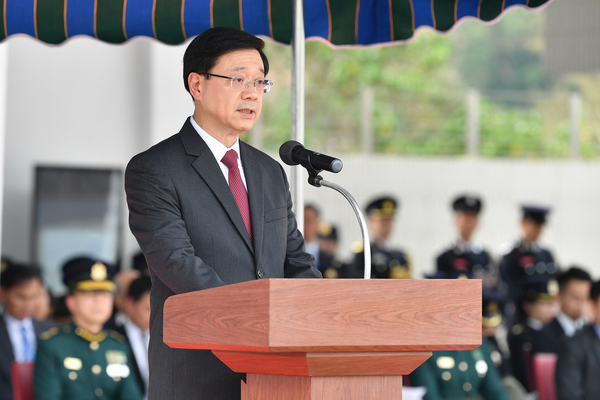 Chief Executive John Lee today inspected 43 probationary inspectors and 79 probationary officers on parade at the Hong Kong Customs College.
Among the passing-out officers, three were Customs Youth Leader Corps members.
The graduated inspectors will embark on their trip to the Shanghai Customs College on March 26, being the first batch to take the inspector induction course on national and Mainland customs operations studies.
Speaking at the parade, Mr Lee pointed out that the National 14th Five-Year Plan clearly supports Hong Kong to enhance its role as an international maritime centre and international aviation hub.
Playing a key role in the Greater Bay Area logistics chain, Hong Kong will continue to leverage its advantages as an international logistics hub to enhance international competitiveness.
Mr Lee also said Customs has been an important force in the city's participation in the Belt & Road Initiative and has also played an essential role in promoting Hong Kong's integration into the national development.
The mutual recognition arrangement on the Hong Kong Authorized Economic Operator Programme has facilitated Hong Kong enterprises to "go global" and tap into international markets, he added.
The Chief Executive encouraged the passing-out officers to carry forward the goal of strengthening the connection to the country and the world in order to build a safe and efficient economic and trade environment.
He also urged them to commit to providing quality services and the building of a strong China.