CE chairs steering group meeting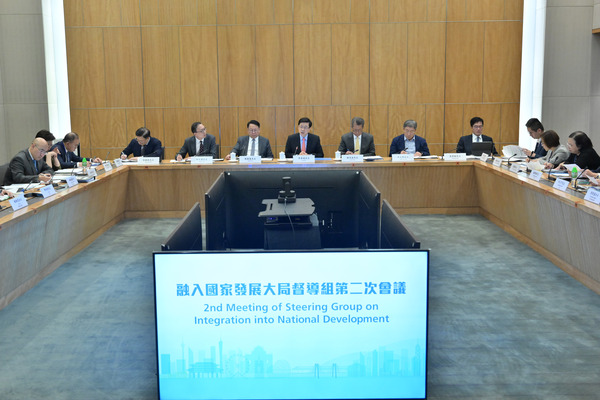 Chief Executive John Lee today chaired the second meeting of the Steering Group on Integration into National Development in his capacity as group chairperson.
The meeting focused on discussing the city's strategies on promoting integration into the national development as well as different regional co-operation matters between Hong Kong and the Mainland.
Mr Lee said when he led eight Directors of Bureaus to call on central ministries and institutions last week, he was delighted that every ministry and institution supported the successful implementation of the "one country, two systems" principle in Hong Kong and the Hong Kong Special Administrative Region's integration into the overall national development.
He believes that the support from the ministries and institutions is conducive to pressing ahead with Hong Kong's integration into the national development efficiently at full steam.
Mr Lee pointed out that in promoting the city's integration into the country's overall development, the Hong Kong SAR Government needs to play a role in making achievements and best take forward three aspects of work in particular.
"Firstly, all policy bureaus should spare no effort in conducting research, especially when consulting relevant trade and stakeholders. Secondly, it is about planning and co-ordination. Leading Principal Officials should play an active role. Thirdly, targets should be set and regular supervision on progress should be conducted," he noted.
In co-ordinating and supervising the implementation, the three deputies - the Chief Secretary, the Financial Secretary and the Secretary for Justice - will demonstrate their leadership in taking forward the work concerned.
With the full resumption of connections and travel between Hong Kong and the Mainland, the Chief Executive requested and encouraged the Secretaries of Departments, Directors of Bureaus and civil servants of the Hong Kong SAR Government to visit more often different provinces and cities in the Mainland.
The aim is to establish connections, enhance relationships, promote communication and co-operation with relevant central and regional units, thereby creating more favourable conditions for Hong Kong's integration into the overall national development, Mr Lee added.