Health chief visits Eastern Hospital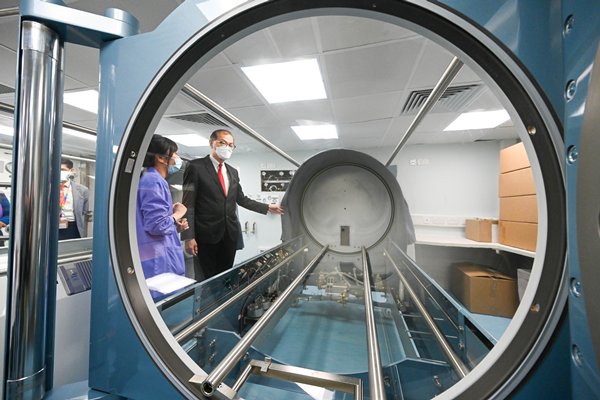 Secretary for Health Prof Lo Chung-mau today visited Pamela Youde Nethersole Eastern Hospital to get an update on the service of public hospitals.
He toured the hospital's specialist outpatient clinic, medical ward, accident and emergency department and hyperbaric oxygen therapy centre, followed by a meeting with its management and frontline healthcare staff to learn about the service demands and manpower deployment.
Prof Lo said: "Having gone through the anti-epidemic work in the past three years, Hong Kong is on the road to full normalcy. I would like to express my heartfelt gratitude to all healthcare staff for their efforts in performing duties and working tirelessly amidst immense work pressure to safeguard the city's healthcare system."
Noting that Hong Kong will see a sharp rise in the number of travellers with the full resumption of normal travel with the Mainland, Prof Lo said the Government will closely monitor the development of the COVID-19 epidemic and the demand for public healthcare services.
He stressed that it will work closely with the Hospital Authority to enhance the healthcare system's capacity, ensuring adequate stock of medical supplies, formulating effective contingency plans and launching bed mobilisation plans as needed.
In addition to striving to ensure the wide use of COVID-19 oral drugs, Prof Lo added that the Government will continue collaborating with private hospitals.
With the society progressing to full normalcy coupled with more frequent flow of people and social activities, the health chief urged citizens to receive seasonal influenza and COVID-19 vaccinations as early as possible for the protection of themselves and their family.