Health chief visits public hospital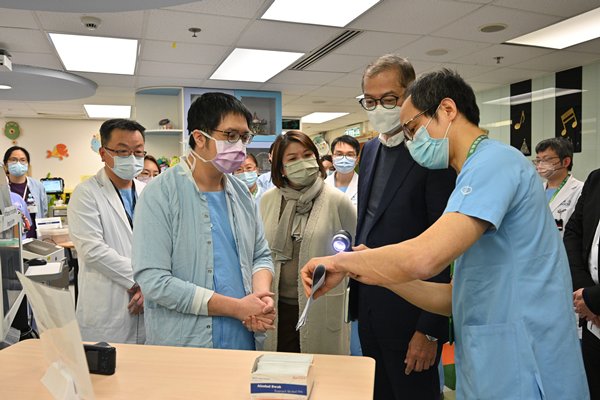 Secretary for Health Prof Lo Chung-mau visited United Christian Hospital today to get a better grasp of the operation of public hospitals after the Lunar New Year holidays.
Prof Lo exchanged views with the hospital's management and frontline healthcare staff before inspecting its renal ward and the Birthmark Laser Treatment Centre of Paediatric & Adolescent Medicine Department.
He learnt from the healthcare staff about the demand for medical services and deployment of manpower at the hospital.
Prof Lo thanked the staff for carrying out their duties and offering high-quality treatment and care to patients with professionalism during the winter surge and the Lunar New Year holidays.
Noting that the service demand of public hospitals may increase with the relaxation of social distancing measures and the cold weather, he said the Government and the Hospital Authority will mobilise manpower and resources in a timely and flexible manner to maintain normal operation of the public healthcare system.
The health chief also appealed to the public, in particular the elderly and children, to receive seasonal influenza and COVID-19 vaccines as soon as possible, maintain personal hygiene and make good use of medical services.
"As the COVID-19 epidemic in Hong Kong has entered a new stage, we have made a series of appropriate adjustments to anti-epidemic measures earlier, but the Government will continue to take the protection of public health and public healthcare system as the main principle.
"We will keep on monitoring the epidemic development closely and adjusting anti-epidemic work to strike a balance between the risks of the epidemic and the momentum of social development with a view to creating the greatest opportunity for livelihood and economic activities."