Ingrid Yeung views jab station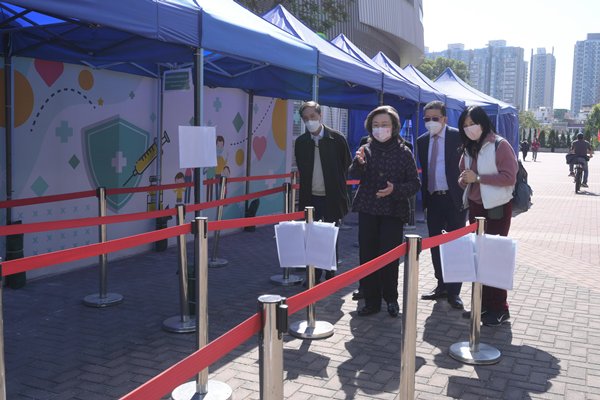 Secretary for the Civil Service Ingrid Yeung visited the Yuen Long Community Vaccination Station today for an update on the COVID-19 vaccination situation.
Noting that society is resuming normalcy in full swing, Mrs Yeung said people should receive suitable doses of the vaccines on time to safeguard their health and that of their families.
"So far, the COVID-19 vaccination rates for the second and third doses across the city are 93% and 83%, which is a result of the joint efforts of every member of the public who supported the vaccination drive, allowing the city to keep progressing along the path to normalcy steadily thanks to the high vaccination rates."
However, she noted that the vaccination rates for people aged 80 or above and children aged below three are only about 72% and 25%.
"Children aged below three are considered as a 'mask-wearing generation' as they have had to put on masks whenever they go out since birth. Should there be a change for places subject to the regulation on the wearing of masks in the future, parents may allow them to take off their masks in permitted places."
For the children to obtain adequate protection against the virus under such a scenario, parents should arrange vaccination for them as early as possible, Mrs Yeung added.
The community vaccination station (CVS) she visited today is at the Yuen Long Leisure & Cultural Building's open space.
As with the CVSs at Wong Tai Sin Temple Square, Java Road Playground and Lai Chi Kok Park, the Yuen Long CVS provides the Sinovac jab for Hong Kong residents aged six months or above, the BioNTech ancestral strain vaccine for residents aged 12 or above and the BioNTech bivalent vaccine for booster purposes.
The civil service chief noted that the Government will adjust the vaccination programme and facilities in light of the epidemic's development and demand for the jab.