CS inspects control point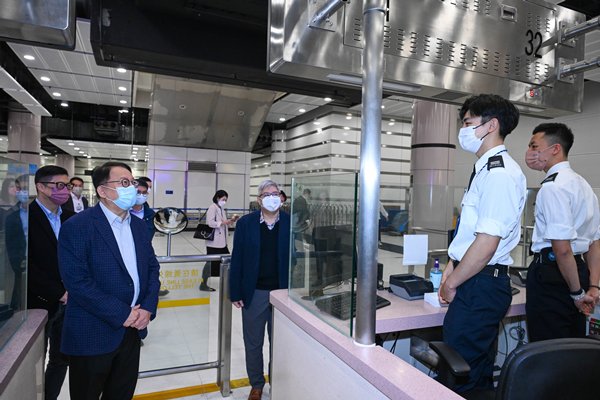 Chief Secretary Chan Kwok-ki today, on the first day of the Lunar New Year, visited the staff on duty at the Lok Ma Chau Spur Line (Futian) Control Point and attended the Hong Kong Well-wishing Festival 2023 at Lam Tsuen in Tai Po to extend his New Year greetings to citizens.
Accompanied by Secretary for Security Tang Ping-keung, Mr Chan first visited the control point to inspect its operation and meet the frontline staff of the Immigration Department, Customs and Police Force on duty.
He learnt about the overall arrangements for customs clearance, public order maintenance and so forth at the control point during the Lunar New Year period. He also met citizens and travellers along the way and extended his New Year greetings to them.
Afterwards, Mr Chan headed to Lam Tsuen in Tai Po to officiate at the lantern lighting ceremony of the Hong Kong Well-wishing Festival 2023 and kick-start the event. He also joined participating citizens to wish Hong Kong a prosperous year ahead.
While delivering his address at the ceremony, he expressed the hope that, on its new journey of advancing from stability to prosperity, Hong Kong can do well in four aspects - resuming normal travel between the city and the Mainland, engaging with talent from around the world, forging collaboration with all walks of life and achieving effective governance and social harmony.
He added that he looks forward to building a promising and prosperous Hong Kong with the community at large.