CE meets new liaison chief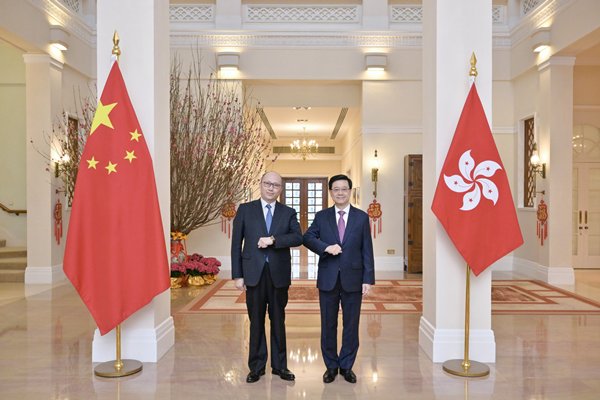 Chief Executive John Lee met the new Director of the Liaison Office of the Central People's Government (LOCPG) in the Hong Kong Special Administrative Region and National Security Adviser to the Committee for Safeguarding National Security of the Hong Kong Special Administrative Region Zheng Yanxiong at Government House today.
Extending a warm welcome to Mr Zheng on his assumption of the new posts, Mr Lee said that Mr Zheng had worked in Guangdong for a long time and had been serving as the first Head of the Office for Safeguarding National Security of the Central People's Government in the Hong Kong SAR for more than two and a half years since July 2020. He added that Mr Zheng has always attached great importance to the development of Hong Kong's society and is very familiar with the situation in Hong Kong.
Mr Lee said he has every confidence that he and Mr Zheng will work together in implementing fully, faithfully and resolutely the principles of "one country, two systems" and "Hong Kong people administering Hong Kong" with a high degree of autonomy, maintaining the constitutional order of the Hong Kong SAR as stipulated in the Constitution and the Basic Law, and implementing the principle of "patriots administering Hong Kong", as well as actively integrating the city into the country's overall development and strengthening its role as a first-class international metropolis.
During the meeting, Mr Lee said Hong Kong society has embarked on the path towards normalcy and is back on the international stage. With the strong support of the central government, normal travel between Hong Kong and the Mainland is resuming in a progressive, orderly and comprehensive manner, and frequent exchanges of people, businesses and tourism will resume.
The Hong Kong SAR Government will unite different sectors of the community to focus on development and will be dedicated to address the concerns and difficulties of the public so as to enhance their sense of well-being and maintain Hong Kong's long-term prosperity and stability, he added.
The Chief Executive also said he believed that under the leadership of Mr Zheng, the LOCPG will continue to support the Hong Kong SAR Government's governance in accordance with the law.
"The Hong Kong SAR Government will spare no efforts in leading Hong Kong society to seize the historic opportunities offered by national strategies such as the 14th Five-Year Plan, the Guangdong-Hong Kong-Macao Greater Bay Area (GBA) development and the high-quality development of the Belt & Road Initiative, and will actively carry out international exchanges and co-operations.
"Mr Zheng's familiarity with the situation of the Guangdong will definitely help Hong Kong make greater achievements in proactively integrating into the overall development of the country and participating in the development of the GBA as Hong Kong steps onto a higher level."