FSD, PolyU sign pact on research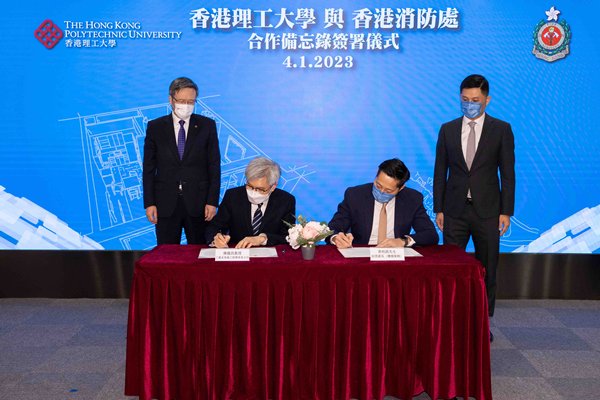 The Fire Services Department (FSD) and Polytechnic University (PolyU) signed a memorandum of understanding (MoU) today to put forward a study to track the location of fire personnel at indoor fire scenes in order to further enhance frontline personnel safety.
The department and PolyU will collaborate in studying the use of indoor positioning technology to track and locate fire personnel at fire scenes inside buildings and protect them against danger.
Witnessed by Director of Fire Services Andy Yeung and PolyU President Prof Jin-Guang Teng, the MoU was signed by FSD Assistant Director (Corporate Strategy) Kwok Pak-chiu, and Head of the Department of Industrial & Systems Engineering of PolyU Prof Chan Kang-cheung.
Mr Yeung said that the FSD has long been supportive to the Government in promoting the innovation and technology (I&T). Over the years, the department has proactively introduced and applied I&T in enhancing its firefighting, rescue and emergency ambulance services for better protection of the lives and property of citizens as well as the safety of frontline fire personnel.
He said that the FSD has deployed robots for firefighting tasks, and also applied artificial intelligence-assisted drones during mountain rescue operations to help search for missing people. Both devices have been proven to be effective in greatly enhancing operational efficiency and safety.
Mr Yeung added that the FSD also shares accomplishments on I&T research with the fire and rescue departments of the Mainland cities in the Guangdong-Hong Kong-Macao Greater Bay Area by conducting regular technical exchanges.
Prof Teng said the collaboration to develop an indoor fire scene tracking system will combine PolyU's advanced positioning and precision engineering technologies with the FSD's professional facilities and support. The study will help provide more timely protection to fire personnel.
He added that the university will continue to harness its multi-disciplinary research strengths to support the FSD's work. For instance, its Department of Building Environment & Energy Engineering is conducting smart firefighting research that adopts artificial intelligence to monitor fire hazards in buildings.