FarmFest opens at Fa Hui Park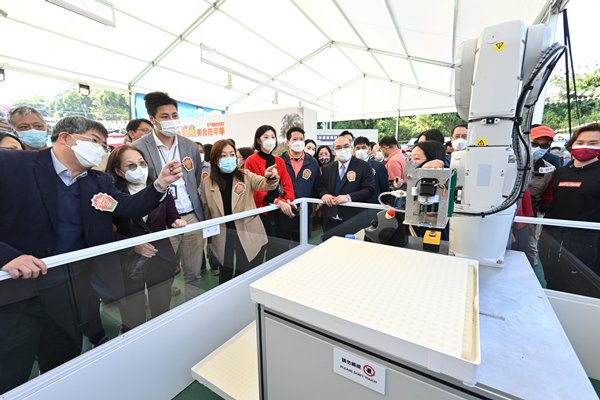 The 17th FarmFest opened at Fa Hui Park in Mong Kok today and will run until December 27 to showcase a variety of local agricultural and fisheries products.
Jointly organised by the Agriculture, Fisheries & Conservation Department, the Vegetable Marketing Organization and the Fish Marketing Organization, this three-day event houses over 300 stalls selling local produce, delicacies and household goods.
An array of premium agricultural products produced by local organic farms and accredited farms, such as cherry tomatoes, beetroot, radishes, strawberries, mushrooms, kale, hydroponic calendulas and hydroponic purple pak choi seedlings, will be on sale.
Local fresh fisheries products cultured by local accredited fish farms, like spiny lobsters, pompanos, Yuen Long grey mullets, jade perches, orbicular batfishes, Pacific white shrimps and hairy crabs, are also available.
To let consumers learn more about the industry's latest development, an agricultural zone and a fisheries zone are set up at FarmFest to demonstrate how the industry enhances productivity and quality with the use of technology.
The agricultural zone introduces modern farm machinery and agricultural technologies to showcase how farmers improve farming efficiency. Meanwhile, the mobile hydroponic cultivation system and the modular automatic seeding robotic arm can optimise space and reduce manpower.
In addition, the zone features smart greenhouse technology that enables farmers to monitor real-time conditions and remotely control greenhouse facilities. Visitors can try operating a smart greenhouse there.
Separately, the fisheries zone exhibits new aquaculture technologies. A semi-submersible steel truss deep sea cage model displays its merits over a traditional wooden fish raft, while a small-scale recirculating aquaculture system with local aquatic species facilitates the public's understanding of the aquaculture system workflow and its functions.
Moreover, with on-site staff's guide, visitors can conduct a microscopy identification of phytoplankton with a microscope.
For this year's FarmFest, citizens can also do online shopping, the department added. From January 3 to 9, 2023, they can purchase local agricultural and fisheries products provided by about 20 fishermen and farmers on the Local Fresh mobile app.
FarmFest opens from 10am to 8pm from today until Tuesday. Admission is free.