Govt stages Constitution Day seminar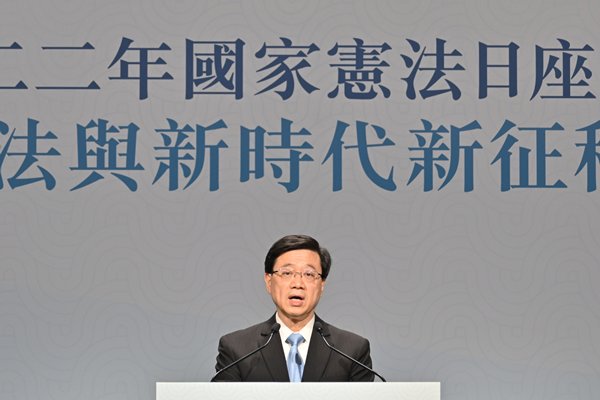 The Hong Kong Special Administrative Region Government and the Liaison Office of the Central People's Government in the Hong Kong SAR jointly held a seminar on Constitution Day today.
The seminar carried the theme of "Constitution & New Journey of the New Era" and was attended by about 650 people from various sectors of the community.
Speaking at the event, Chief Executive John Lee said the theme of the seminar highlights the spirt of the 20th National Congress of the Communist Party of China and enables a profound understanding of the Constitution's importance in the country's governance as well as the implementation of "one country, two systems".
Mr Lee noted that as stated in the Policy Address, the Hong Kong SAR Government will strengthen publicity and education on the Constitution, the Basic Law and the National Security Law in the city.
Director of the Liaison Office Luo Huining said at the seminar that cross sections of the community should resolutely safeguard the Constitution and ensure the "one country, two systems" principle is not bent or distorted in its practice.
They should also safeguard the sovereignty, security and development interests of the nation as the ultimate principle and promote the mainstream values of patriotism, the love of Hong Kong and the implementation of "one country, two systems".
Meanwhile, President of the Chinese Association of Hong Kong & Macao Studies Deng Zhonghua said the Constitution is the source of authority for the Basic Law and added that they together form the constitutional basis of the Hong Kong SAR.
The full version of the seminar will also be uploaded to the Constitutional and Mainland Affairs Bureau website. Click here for more information on Constitution Day.