CPC congress spirit seminars held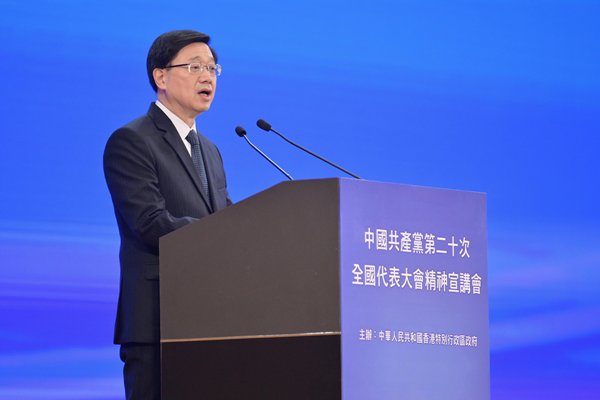 The central government sent a delegation to speak at two seminars held by the Hong Kong Special Administrative Region Government today to promote the spirit of the 20th National Congress of the Communist Party of China.
The delegation's keynote speakers include Chairman of the Legislative Affairs Commission of the Standing Committee of the National People's Congress (NPC) Shen Chunyao and Vice-Chairman of the Committee on Economic Affairs of the National Committee of the Chinese People's Political Consultative Conference (CPPCC) Xie Fuzhan.
The seminars were attended by more than 1,000 people, including members of the Executive Council and Legislative Council, representatives of the Judiciary and Hong Kong deputies to the NPC and CPPCC.
The participants also include members of major political organisations and community groups as well as representatives of various sectors including industrial and commercial businesses, education and media. Youth representatives and some professionals also attended.
Addressing the event, Mr Shen said the "one country, two systems" principle is a good arrangement that ought to be persisted and refined.
Mr Shen said Hong Kong used to face great challenges but added that under the strong leadership of the Central Committee, overall jurisdiction is exercised over the Special Administrative Region in accordance with the Constitution and the Basic Law.
He noted that together with the implementation of National Security Law and the principle of "patriots administering Hong Kong", a major transition from chaos to order has been achieved.
Mr Xie said in his speech that Hong Kong has achieved a major transition from chaos to order and started the new chapter of advancing from stability to prosperity. He called on the city to stay alert to the complicated global environment and its challenges.
Chief Executive John Lee, who is the host of the seminars, said the report of the 20th National Congress has profoundly concluded the great changes and brilliant achievements of the country in the new era over the past 10 years.
The spirit of the congress is vital to the development of the country and Hong Kong, the great rejuvenation of the nation, the steadfast and successful implementation of the "one country, two systems" principle and the long-term prosperity and stability of the city, he added.
Director of the Liaison Office of the Central People's Government in the Hong Kong SAR Luo Huining also took part in the event.
Mr Luo said he hopes different sectors of the society can seize on this occasion to promote the effective implementation of the spirit of the 20th National Congress in Hong Kong.
The seminar participants exchanged views during an interactive session. The full version of the event will be uploaded to the Constitutional & Mainland Affairs Bureau website.