CE inspects immigration recruits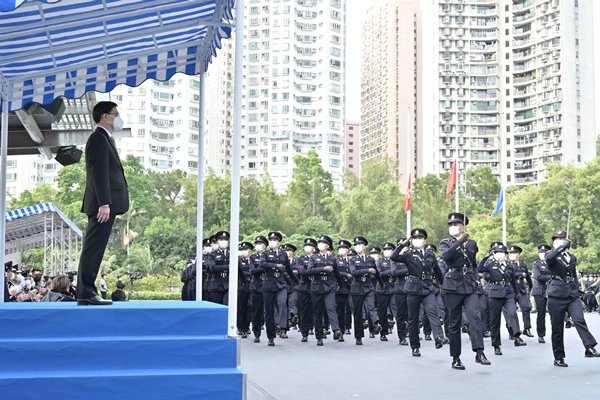 Chief Executive John Lee attended the Immigration Department passing-out parade today to review 167 officers on parade, including 70 immigration officers and 97 immigration assistants.
Before the start of the parade, one minutes' silence was observed to express deep mourning for the late Former President of the People's Republic of China Jiang Zemin.
The guard of honour first assembled to form a dynamic analogue clock during the footdrill performance, then joined the parade for the smart formation of the Chinese numerals "25", symbolising the department's efforts to move with the times and strive for excellence over the past 25 years since Hong Kong's return to the motherland.
It was also the first time that all passing-out officers in three respective grand phalanxes marched past the reviewing officer and goose-stepped steadily as well as the first time the Immigration Band included Chinese instruments in the performance.
In his speech, Mr Lee praised the department for its commitment in promoting social prosperity and stability by diversifying its services with innovative ideas.
He remarked that the launch of Contactless e-Channels and e-Visa had enabled the public and passengers to reduce contact with shared facilities during their access to immigration services, while the promotional vehicles travelling around all 18 districts had made it easier and more convenient for people to renew their Hong Kong Special Administrative Region passports in time.
The Chief Executive also said the Policy Address introduced an array of initiatives to attract enterprises and talent, and that the department would play a critical role in implementing these initiatives, including fully supporting the Talents Service Unit and launching the Top Talent Pass Scheme. He believed that the department would remain professional and efficient in assisting to trawl the world for talent and bringing unlimited opportunities to Hong Kong.
He also recognised the department's achievements in youth development by nurturing positive young people who not only loved the country and Hong Kong, but also demonstrated law-abiding awareness, self-discipline and a willingness to serve the community.
Lastly, Mr Lee encouraged the passing-out officers to remain steadfast in upholding the constitutional order of the Hong Kong SAR set out under the Constitution and the Basic Law, and carry forward the department's legacy, so as to start a new chapter for Hong Kong, build a brighter future for the country, and thrive in unity on the city's lasting prosperity and the realisation of national rejuvenation.