BioNTech bivalent vaccination starts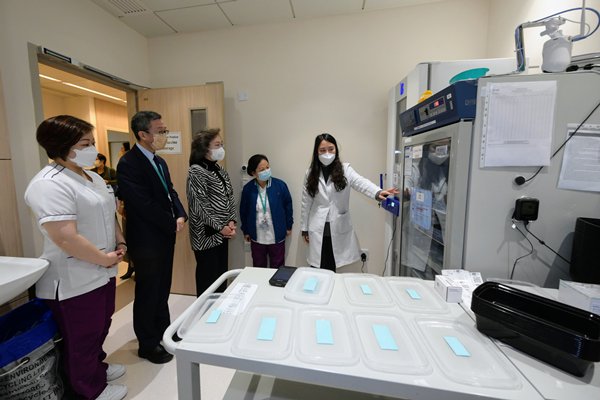 Secretary for the Civil Service Ingrid Yeung today visited the community vaccination centre (CVC) at Chinese University of Hong Kong Medical Centre to see for herself the BioNTech bivalent vaccination of the public.
Mrs Yeung also learnt about the views of the vaccine recipients during the visit.
She said so far, about 31,200 people have made an appointment to get the BioNTech bivalent vaccine and the vaccination quotas of various vaccination venues remain abundant.
She said that with the significant drop in temperature and the number of confirmed cases staying at a high level, citizens have to be well prepared for winter, during which the virus will be active.
She urged unvaccinated people to get vaccinated as soon as possible, adding that vaccination should allow no delay for those who are due to receive their second, third and even fourth dose, in particular the elderly and children who belong to high-risk groups.
Starting today, the CVCs, community vaccination stations, hospital COVID-19 vaccination stations, Hospital Authority designated general out-patient clinics and private clinic COVID-19 vaccination stations provide vaccination service with the BioNTech bivalent vaccine to eligible people aged 12 or above.
Click here to learn more about the respective dosage and intervals of vaccine for different age groups and recovered people.
The designated website for the COVID-19 Vaccination Programme provides the latest information including details on vaccination venues, reservation and enquiry hotlines.