CE meets world IP chief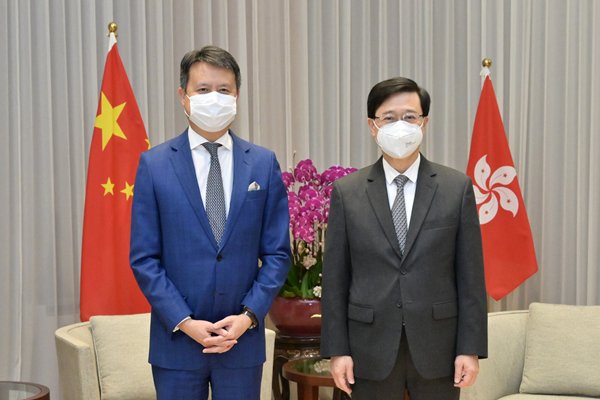 Chief Executive John Lee today met World Intellectual Property Organization Director General Daren Tang who is visiting Hong Kong to attend the upcoming Business of Intellectual Property (IP) Asia Forum.
The forum, to be held on December 1 and 2, is one of the signature events celebrating the 25th anniversary of the establishment of the Hong Kong Special Administrative Region.
Mr Lee welcomed the visit by Mr Tang and the WIPO high-level delegation to the city to attend the forum.
The National 14th Five-Year Plan supports Hong Kong to develop into a regional IP trading centre. Mr Lee said the Hong Kong SAR Government was committed to protecting IP rights and promoting IP trading in line with the national strategy to develop IP.
The efforts will also complement Hong Kong's vision to develop a knowledge-based economy, become an international innovation and technology centre and support the development of cultural and creative industries, Mr Lee added.
The Chief Executive said the Hong Kong SAR Government would leverage the institutional advantages of Hong Kong's legal and IP protection systems to further strengthen the city's role as a regional IP trading centre.
Paying tribute to the WIPO for playing a pivotal role in promoting and facilitating global IP development, Mr Lee said he hoped that with the central government's support, the Hong Kong SAR Government and WIPO would continue to maintain close communication and explore more co-operation to promote IP development.