Nanjing Museum exhibits on show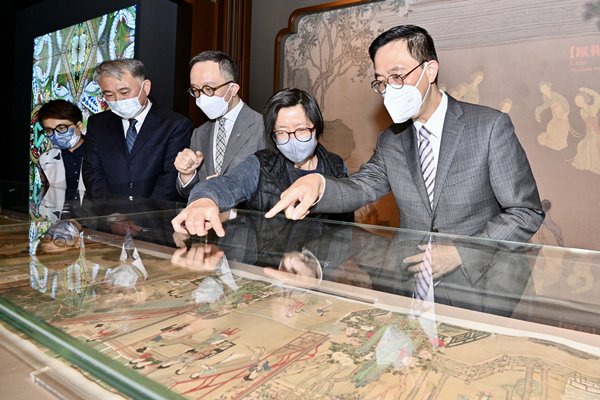 The Heritage Museum will hold an exhibition showcasing over 100 artefacts of ancient Chinese women from Nanjing Museum from tomorrow to February 27, 2023.
"The Hong Kong Jockey Club Series: Women & Femininity in Ancient China - Treasures from the Nanjing Museum" is one of the programmes celebrating the 25th anniversary of the establishment of the Hong Kong Special Administrative Region.
Addressing the exhibition's opening ceremony today, Secretary for Culture, Sports & Tourism Kevin Yeung said the exhibition showcases 118 selected exquisite artefacts from the Nanjing Museum, adding that it is the first time 21 grade-one national treasures are being displayed in Hong Kong, which is very rare.
He pointed out the exhibits span across several dynasties and cover many aspects of daily life and that through appreciating the rich and diversified lifestyles of ancient Chinese women, visitors could gain an insight into the developments of Chinese society.
The exhibition is composed of four parts, with the first covering the change of fashions in hairstyles, make-up and clothing of ancient women.
The second part focuses on daily living necessities and accessories to enable visitors to explore the experience of women in different social classes.
The third part is a collection of paintings, embroidery and artefacts created by talented ancient Chinese women in different dynasties, demonstrating their talent and ingenuity.
The fourth part consists of paintings of women by master painters which can help visitors learn more about the stories of legendary women.
Highlight exhibits include the grade-one national treasure Ancient court ladies at leisure, a 13-metre-long Qing dynasty handscroll.
To coincide with the exhibition, the museum has created the "Women of Our City" session.
Through sharing the fascinating stories of four incredible and inspiring Hong Kong women - eminent image director Tina Liu, world-renowned cyclist Sarah Lee, radio host Bonnie Wong and probationary fire station officer Scarlett Yiu - and showcasing the museum collections of pop culture, visitors can delve into the images of contemporary females in Hong Kong.
Click here for details.