Recycling promotion drive starts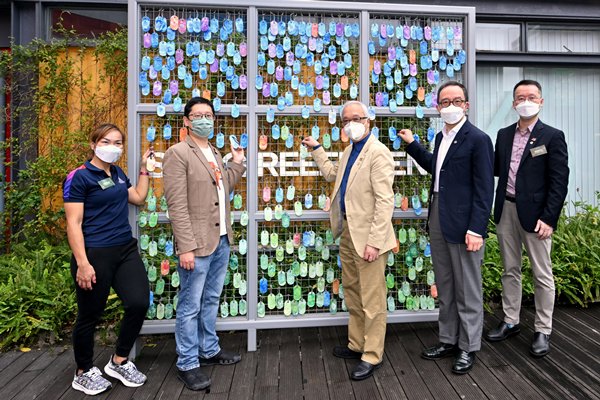 Secretary for Environment & Ecology Tse Chin-wan today officiated at the Kick-off Ceremony of GREEN@COMMUNITY Recycling Month held at the Recycling Station GREEN@KWUN TONG.
He encouraged the public to integrate proper source separation of waste and clean recycling in their daily lives, and prepare for the upcoming implementation of municipal solid waste charging.
Speaking at the ceremony, Mr Tse pointed out that the Government has devoted substantial resources to strengthening community recycling support in the past two years.
He said he expected that the series of activities organised under GREEN@COMMUNITY Recycling Month would rally the efforts of the whole city to promote community-wide participation in source separation of waste and clean recycling as well as to foster a green living culture in the community to pave the way for realising the vision of resources circulation and "Zero Landfill".
GREEN@COMMUNITY Recycling Month, which runs from today to December 31, is a large-scale promotional campaign organised by the Environmental Protection Department.
During the promotion period, members of the public can earn six times GREEN$ points under the GREEN$ electronic participation incentive scheme on submission of eight types of designated recyclables: waste paper, metals, plastics, glass containers, regulated electrical equipment, small electrical appliances, fluorescent lamps and tubes, and rechargeable batteries, to the community recycling network GREEN@COMMUNITY.
RECYCLING FEST will also be held at 11 Recycling Stations to promote waste reduction and recycling at the community level through various activities, including game booths, upcycling workshops and second-hand exchange markets.
The event aims to introduce the rebranded Recycling Stations and their new facilities such as smart recycling systems to the public.
The department hopes to further encourage citizens to make good use of the GREEN@COMMUNITY facilities by bringing about new recycling experiences.
On the occasion of today's ceremony, awards were presented to electrical and electronic equipment suppliers who have actively reduced the use of packaging materials, in the hope that more suppliers of different products would join the cause of packaging material reduction.
Awards were also given to various parties supporting the department's one-stop reliable recycling service GREEN COLLECT that was rolled out in the middle of this year.
Housing estates and residential buildings using the service with excellent performance were also presented awards.