CS meets Asia Rugby President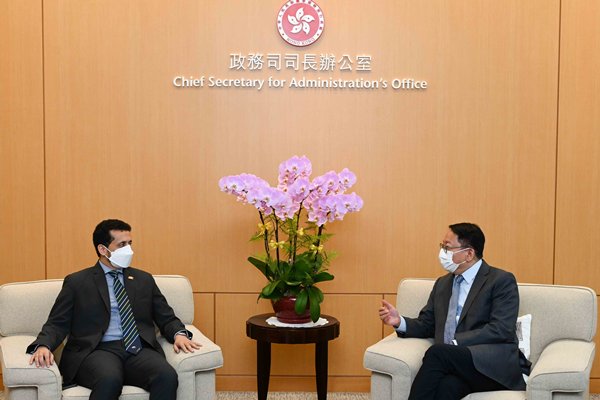 Chief Secretary Chan Kwok-ki met Asia Rugby President Qais Abdulla Al Dhalai who specially paid a visit to Hong Kong from Dubai today.
Qais Abdulla Al Dhalai explained in person the incident involving the playing of a song closely associated with the widespread violent protests and Hong Kong independence of 2019, when the national anthem of the People's Republic of China should have been played at the Asia Rugby Sevens Series' second leg final between Hong Kong and South Korea held in Incheon, South Korea on November 13.
He said that the incident was due to human error, entirely without any political or malicious intent, by a junior member of the local organiser.
He also totally agreed that the national anthem is the symbol and sign of a nation and must be respected on all occasions, hence his apology extended in person to the Government and people of the Hong Kong SAR, and undertook to ensure no similar mistake will happen again.
At the meeting, Mr Chan reiterated that the Hong Kong SAR Government strongly deplores and opposes the incident, and that, as the tournament's lead organiser, Asia Rugby is responsible for ensuring the national anthems of all participating teams receive the rightful respect warranted.
He stressed that the playing of the song concerned was totally unacceptable.
With the responsibility taken for the incident, Asia Rugby undertook that they will confirm the national anthems with all participating teams for future tournaments, which will be stored in a centralised archive. All the local organisers of the tournaments are required to obtain the national anthems from the archive and will not be allowed to use any other version.
Mr Chan urged Asia Rugby to steadfastly implement all necessary remedial measures, and firmly reminded it that there is absolutely no room for any mistake in all future tournaments to be participated in by the Hong Kong Rugby Team, including the Asia Rugby Sevens Series' third leg to be held in Dubai in late November.
In view of the mistakes concerning the national anthem in sports events recently, the Hong Kong SAR Government has been in close liaison with the Hong Kong Sports Federation & Olympic Committee of Hong Kong, China and the Hong Kong Paralympic Committee. Guidelines were promulgated today for all sports associations and organisations subvented by the Hong Kong SAR Government.
The guidelines clearly set out how these sports bodies should ensure the correct use and description by overseas events' organisers of the national anthem and the Hong Kong SAR regional flag, and also require them to proactively approach their respective international and Asian sports federations to ensure that the national anthem and regional flag receive the rightful respect warranted and prevent any similar errors from happening again.
Briefings will also be conducted this week to explain in detail the contents of the guidelines to the sports associations and government-subvented sports organisations, with a view to ensuring that they clearly understand the arrangements.