Legal Week successfully concludes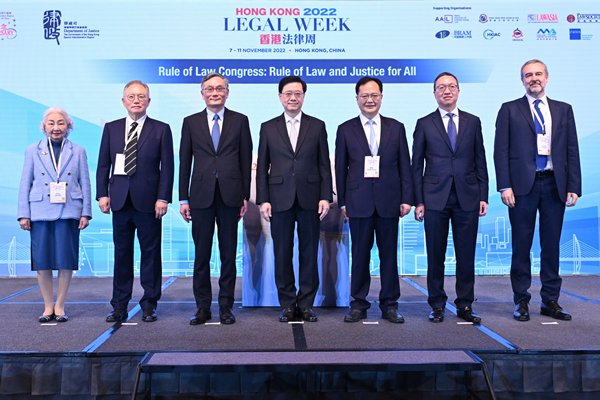 Hong Kong Legal Week 2022 successfully concluded today as the annual flagship event of the Department of Justice.
Internationally renowned legal experts and academics from the Mainland, Hong Kong and overseas gathered during Legal Week to have in-depth discussions on a wide range of topics, attracting around 8,200 participants from 40 jurisdictions registered for on-site or online participation.
The event demonstrated Hong Kong's close connection with the world while the city has fully leveraged the unique advantages of its common law system under "one country, two systems", consolidating its leading status as the international legal and dispute resolution services centre in the Asia Pacific region.
There were a total of 27 overseas speakers and guests coming from the "three sisters" of private international law - the International Institute for the Unification of Private Law (UNIDROIT), the Hague Conference on Private International Law and the United Nations Commission on International Trade Law - as well as Japan, the Association of Southeast Asian Nations and more, attending Hong Kong Legal Week 2022 in person this year.
The Rule of Law Congress: Rule of Law & Justice for All was held today as the finale of Hong Kong Legal Week. Chief Executive John Lee, Chief Justice Andrew Cheung and Secretary for Justice Paul Lam delivered their remarks at the opening session.
In his keynote speech, Secretary-General of the UNIDROIT Prof Ignacio Tirado talked about the rule of law for sustainable development.
The Rule of Law Congress and Hong Kong Legal Week 2022 came to an end after Deputy Secretary for Justice Cheung Kwok-kwan delivered his closing remarks.
Click here for an overview of the events.