More jab venues to open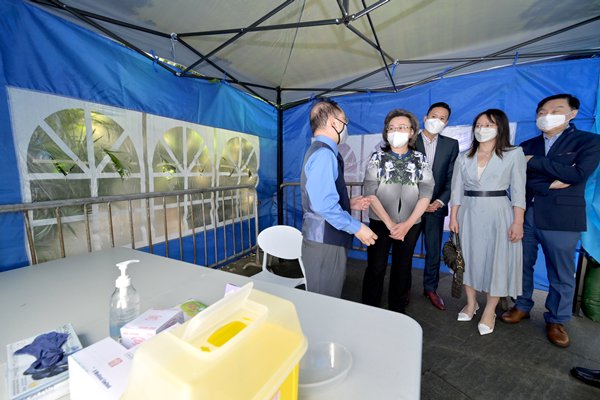 The Government announced today that nine additional COVID-19 vaccination venues will be set up progressively at locations with convenient transport or high patronage this month to provide convenience to members of the public.
Seven additional Private Clinic COVID-19 Vaccination Stations (PCVSs) will open from October 18 to administer the Sinovac vaccine for people aged six months or above and the BioNTech vaccine for those aged 12 or above.
From 9am on October 13, members of the public can make reservations for free vaccination services through the booking system on the COVID-19 Vaccination Programme's designated website.
As for the remaining two additional vaccination venues, the Wong Tai Sin Temple Square Community Vaccination Station (CVS) started serving the public today, while the Government will set up the Java Road Playground CVS at 363 Java Road in Quarry Bay from October 31. Online reservations will be available from 9am on October 25.
The two vaccination stations, open daily from 9am to 6pm, will provide both the Sinovac vaccine and the BioNTech vaccine.
Meanwhile, starting from October 31, the Millennium City 5 vaccination centre in Kwun Tong and the one in Lai Chi Kok Park will enhance their services from only providing the Sinovac jab to also providing the BioNTech vaccine.
Online reservations for the BioNTech vaccination service at these two venues will be available from 9am on October 25.
Secretary for the Civil Service Ingrid Yeung said that the Government is adopting a more flexible and cost-effective strategy to work with private medical organisations and make good use of different venues to set up vaccination stations at locations with convenient transport or high patronage to expand the service network.
She pointed out that the number of PCVSs will be increased to 26. The daily vaccination capacity available will be about 63,000 doses, which is far above the current demand for vaccination.
The CVCs at the Boundary Street Sports Centre, the Lai Chi Kok Park Sports Centre, the Hiu Kwong Street Sports Centre, the Java Road Sports Centre and the Sai Wan Ho Sports Centre, as well as the Pop-up CVC at 17th floor, Landmark North in Sheung Shui, will operate until noon on October 31, and will be closed afterwards.
The Government reminded members of the public to receive a suitable number of COVID-19 vaccine doses as soon as possible for self-protection and to reduce the risk of falling seriously ill and death should they get infected.
People aged 60 or above can collect a same-day ticket at CVCs, PCVSs or CVSs for appointment-free vaccination.