CE lauds disciplined services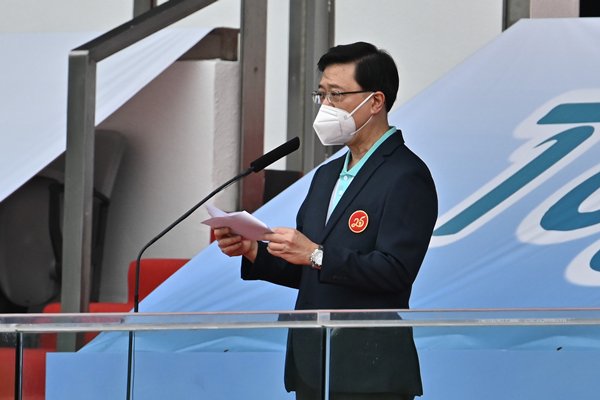 Chief Executive John Lee today officiated at the "Together We Prosper" grand parade at the Fire & Ambulance Services Academy in Tseung Kwan O where participants included the disciplined services, auxiliary services and nine youth groups.
Organised by the Security Bureau, the event was held to celebrate the 73rd anniversary of the founding of the People's Republic of China as well as the 25th anniversary of the establishment of the Hong Kong Special Administrative Region.
Addressing the ceremony, Mr Lee said colleagues from the disciplined services are at the forefront to maintain law and order and stressed that they protect the lives and property of Hong Kong citizens with selfless dedication and work tirelessly to prevent and suppress acts endangering national security.
He added that the auxiliary services strive to support the regular disciplined services to contribute to the stability and order of society together.
Lauding the commitment of the disciplined services and auxiliary services in various types of anti-epidemic work, Mr Lee pointed out that they are the most steadfast in the city's anti-epidemic team.
In addition to emphasising that he was delighted with the participation of different youth uniformed groups in the grand parade, the Chief Executive said he hopes they will become a new generation with a sense of responsibility and an aspiration and willingness to strive for the future of the country and of Hong Kong.
Opening the grand parade, a flag-raising ceremony featured a performance by the Police Band, singing of the national anthem by the youth groups and a fly-past by Government Flying Service helicopters.
This was followed by a joint Chinese-style foot drill by the disciplined services, the first joint performance since the disciplined services adopted the Chinese-style foot drill.
There was also a military tattoo and music performances, demonstrations of enforcement operations with working dogs, as well as dragon and lion dances and military boxing performed by the youth groups under the disciplined services together with two cadet groups.