Alice Mak meets young cadets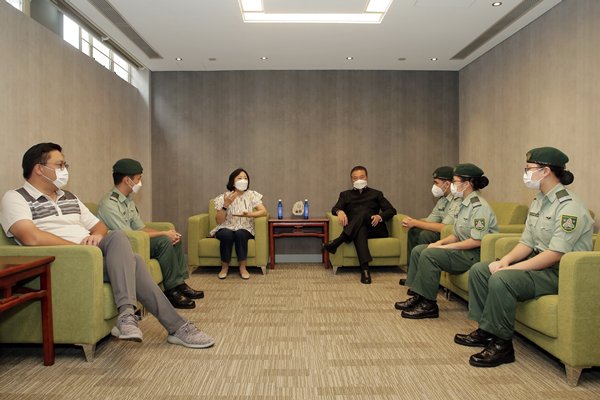 Secretary for Home & Youth Affairs Alice Mak today visited the Hong Kong Army Cadets Association (HKACA) to tour its training facilities and learn about their Mid-Autumn Festival-themed activities.
Miss Mak was first given a briefing by HKACA Chairman Bunny Chan on the association's latest operations.
Among the diversified skill-training facilities in the HKACA Headquarters, Miss Mak toured a housekeeping training room, a home economics room and an obstacle training ground to learn about the young cadets' routine training.
She then inspected a foot drill performance conducted by the young cadets.
To echo the festivity of the Mid-Autumn Festival, the HKACA themed today's routine elite training on the festival to help young participants gain knowledge about the traditional Chinese festivals for a better understanding of the country and Chinese culture, thereby fostering their sense of national identity.
Miss Mak watched young participants take part in lantern-making activities.
She noted that young people are the future, hope and pillars of Hong Kong, adding that the Government has all along devoted considerable efforts towards youth development, with policy objectives formulated specifically for the healthy growth and development of young people.
She pointed out that the Home & Youth Affairs Bureau provides recurrent subvention to youth uniformed groups in the community to support the provision of informal education and training to young people which serves to help them foster positive values, strengthen leadership skills and attain whole-person development.
To support its work, the bureau provides subvention to the HKACA starting from 2022-23 in the hope that it will keep an active role in supporting youth work and organising diverse activities to engage young people.
Before concluding her visit, Miss Mak exchanged views with HKACA representatives and its young cadets to gauge their views on youth work.