Health chief tours Genome Institute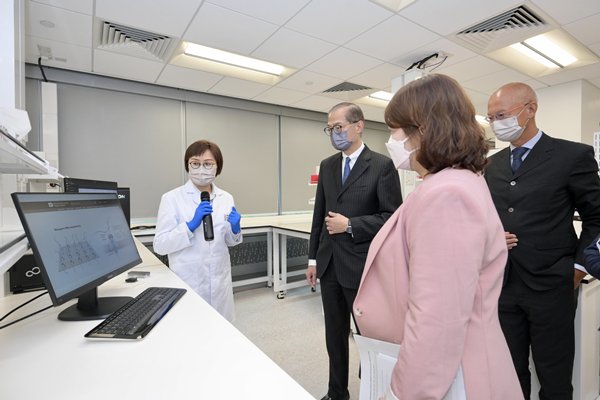 Secretary for Health Prof Lo Chung-mau today visited the Hong Kong Genome Institute to inspect its laboratory and exchange views with the board members and staff to get a better grasp of the Hong Kong Genome Project's latest progress.
The laboratory, which started operation last December, is equipped with advanced instruments and devices for the institute's professional staff to perform sequencing services with further analysis and research.
The institute has formulated rigorous quality indicators for each procedure to ensure that sample processing, sequencing and analysis are all performed with the highest quality in compliance with relevant international standards.
The health chief received a briefing by the institute's staff on their work in relation to nurturing talent and also interacted with the summer interns.
Prof Lo said: "In the light of the technological advancements and challenges posed by an ageing population and emerging diseases, our healthcare system must keep abreast with the times and continue to transform with innovation. Genomic medicine is exactly the key area in the medical field and scientific research of the day, given its vast potential in screening, diagnosis and personalised treatment of diseases."
The Government will continue to support the institute's work so that citizens may benefit from scientific advancements and live healthier lives, he added.