Ed chief calls for early vaccination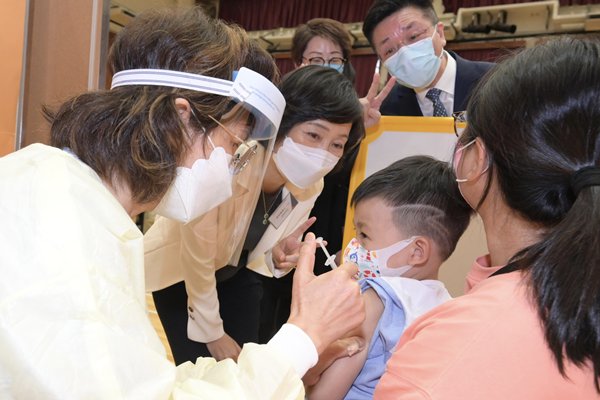 Secretary for Education Choi Yuk-lin today attended a school vaccination activity and appealed to parents to arrange early COVID-19 vaccination for their children.
Ms Choi said: "Vaccination is the most effective way to protect against COVID-19 and can reduce the risk of severe cases and fatalities. The Government has announced the lowering of the minimum age for receiving vaccination to six months old. Young children may receive the Sinovac vaccine to enhance personal protection."
Organised by the Education Bureau and the Tung Wah Group of Hospitals with participation from 10 secondary schools, primary schools and kindergartens in Tuen Mun, today's event attracted about 170 students and parents to enrol for a COVID-19 jab. The education chief encouraged more school sponsoring bodies to organise joint school vaccination activities to help parents take care of vaccinated students and concentrate resources on a single spot for providing different doses of the vaccine.
Separately, in light of the latest development of the COVID-19 epidemic, the Education Bureau announced that it has decided to continue the half-day face-to-face class arrangements for the 2022-23 school year until further notice.
However, secondary schools that have reached the required vaccination rate may give whole-day face-to-face classes. This would require all teachers and school staff directly employed by the schools to meet the requirements of the Vaccine Pass, and at least 90% of the total number of students eligible for vaccination to receive two doses of vaccine for more than 14 days.
Meanwhile, secondary or primary school students who have received two jab doses for more than 14 days may attend non-academic extra-curricular activities at school after lessons or during the other half-day of a school day.
Additionally, as the daily rapid antigen test (RAT) arrangement helps with gatekeeping at schools, the bureau considered it necessary for schools to maintain the regime in the new school year until further notice. RAT kits will be distributed to students with financial needs.