Law Chi-kwong gives out gift packs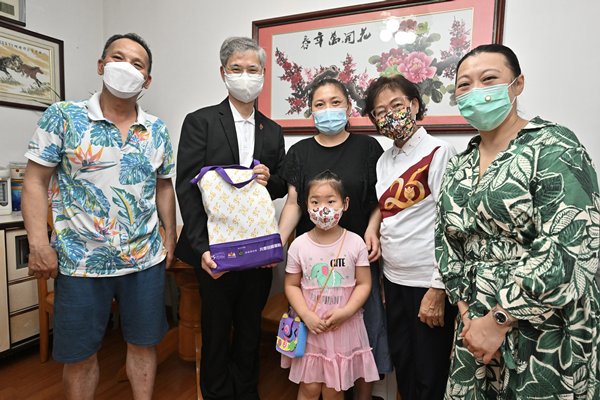 Secretary for Labour & Welfare Dr Law Chi-kwong today visited families and distributed gift packs to them in Wan Chai and Tung Chung under the Celebrations for All project.
Addressing the launch ceremony of the Celebrations for All project in Wan Chai District, Dr Law said despite various crises since the return to the motherland, Hong Kong people always rise up to the challenge with resilience and determination, turning crises into opportunities and emerging stronger.
He said amid the COVID-19 epidemic, the support from the central government, donations from Chinese enterprises and the reinforcement from temporary contract care workers from the Mainland provided solid backing for Hong Kong in its epidemic fight.
Given the recent developments of the epidemic, Dr Law called on citizens to heighten their vigilance and foster mutual support in the neighbourhoods.
Before and after attending the launch ceremony, Dr Law visited elderly doubletons and a grass-roots family and a single elderly person in Tung Chung and Wan Chai.
The welfare chief reminded them to make good use of the masks, rapid test kits and handrub in the gift packs for personal protection during festive celebrations.
He also thanked local and welfare organisations pitching in with manpower and resources. Apart from distributing anti-epidemic supplies during COVID-19, they also arranged for volunteers to visit people in need and distributed gift packs, showing the importance of social capital.
The Celebrations for All project is one of the major events to mark the 25th anniversary of the establishment of the Hong Kong Special Administrative Region, extending warm regards to the disadvantaged and the underprivileged.