Chi medicine institutions to be built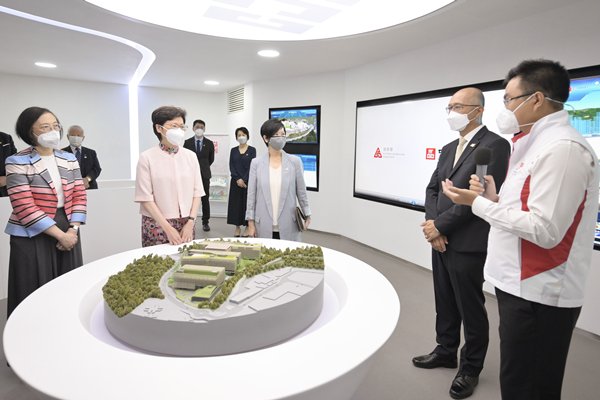 Chief Executive Carrie Lam today officiated at the groundbreaking ceremony of the Chinese Medicine Hospital (CMH) and the Government Chinese Medicines Testing Institute (GCMTI) to be completed by 2025.
Addressing the ceremony, Mrs Lam said: "I would like to express my heartfelt gratitude to the nation for its staunch support and the help being extended by different Mainland ministries in the planning stage of the CMH and the GCMTI and in employing CM (Chinese medicine) during the fight against the (COVID-19) epidemic. Today's groundbreaking ceremony heralds the start of a significant page for Hong Kong's CM development, with the two flagship projects serving as a strong impetus."
Also at the ceremony, Secretary for Food & Health Prof Sophia Chan thanked the Hong Kong CM sector's unfailing support for the two projects, especially the support and valuable feedback from the Chinese Medicine Development Committee.
"The Government will continue to advance CM development through measures such as talent training, research, facilities enhancement and promotions under the support of the Chinese Medicine Development Fund, so as to generate an additional driving force for CM development."
Commissioned by the Government and to be operated by Baptist University under a public-private-partnership model, the CMH will be developed into a local flagship CM institution and a change driver promoting the development of services, education, training, innovation and research of CM in Hong Kong.
It will provide clinical services of pure CM, CM playing the predominant role and integrated Chinese-Western medicine, covering both inpatient and outpatient services. The CMH will also support the clinical placement of the three local universities and serve as a clinical training platform for CM practitioners.
With regard to CM research, the CMH will collaborate with universities as well as educational bodies in Hong Kong, the Mainland and overseas to conduct clinical research and other CM-related research.
Meanwhile, the GCMTI, to be managed by the Department of Health, will specialise in the testing and scientific research of CMs, with the focus on the research and establishment of internationally recognised reference standards on CM safety, quality and testing methodology.
While promoting the standardisation and internationalisation of CMs, it will also empower the CMs industry through the transfer of testing technology to strengthen the quality control of products, with a view to building the brand image of Hong Kong CMs as well as developing Hong Kong into an international hub for CM testing and quality control.
The Government Laboratory will also take part in setting up laboratories in the GCMTI for CMs-related work.
Located in Pak Shing Kok in Tseung Kwan O, the CMH and the GCMTI each covers 4.29 and 1.72 hectares of land.
The CMH will be the first multi-storey hospital project to adopt modular integrated construction technology, the Government added.