SJ explains rule of law to teachers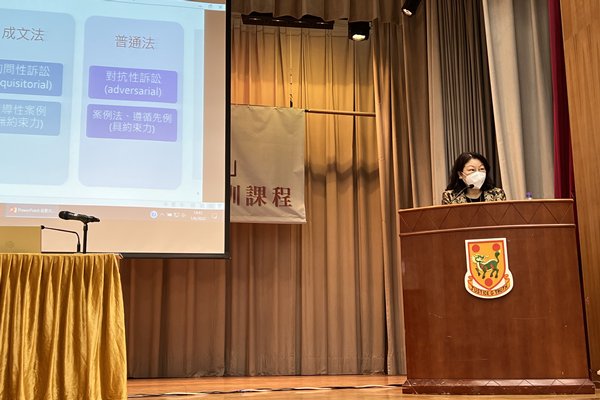 Secretary for Justice Teresa Cheng spoke to about 100 principals and teachers on the proper concepts of the rule of law and the legal system in Hong Kong at a training course today.
Ms Cheng was invited to deliver a talk to introduce the basic principles of statutory law and the common law in Hong Kong's legal system, the spirit of the rule of law and the importance of judicial independence.
She also briefly explained the rule of law in the international legal order, citing the principles of equality of the states and non-intervention as examples.
She pointed out that the common law is the cornerstone supporting the capitalist system under "one country, two systems", adding that it is essential to get a correct understanding of the Constitution in the hierarchical order of laws that are applied in Hong Kong.
Ms Cheng noted the spirit of the rule of law, in particular equality before the law, is expressly set out in Article 25 of the Basic Law. She stressed that any advocacy on violation of law is contrary to the rule of law.
She also said the laws of Hong Kong respect and protect the rights and freedoms as provided for under the Basic Law. However, such rights and freedoms are not absolute but may be subject to restrictions which are, amongst others, in the interests of public order and the protection of others' rights and freedoms.
The justice chief said the power of the National People's Congress Standing Committee in interpreting the Basic Law in accordance with Article 158 is consistent with Hong Kong's constitutional order.
Such power does not undermine judicial independence as the power of final adjudication of the Hong Kong Special Administrative Region is still vested in the Court of Final Appeal, Ms Cheng added.
Co-organised by Endeavour Education Centre and the Education Bureau, and supported by the Department of Justice, the Reinforcing the Rule of Law training course aims to provide teachers with the proper understanding of the rule of law, the relationship between the Constitution and the Basic Law, as well as the importance of national security.