DoJ hosts Basic Law conference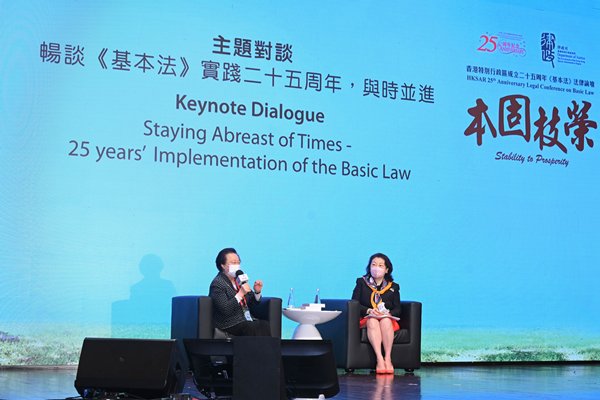 The Department of Justice today hosted the Hong Kong Special Administrative Region 25th Anniversary Legal Conference on Basic Law Stability to Prosperity.
The conference brought together heavyweight speakers to share their insights on Hong Kong's long-term development premised on "one country, two systems", the Constitution and the Basic Law.
Chief Executive Carrie Lam, Deputy Director of the Hong Kong & Macao Affairs Office of the State Council Wang Linggui and Deputy Director of the Liaison Office of the Central People's Government in the Hong Kong SAR Chen Dong delivered remarks at the opening ceremony.
Hong Kong SAR Basic Law Committee of the Standing Committee of the National People's Congress Chairman Shen Chunyao then gave a keynote speech, stating that the Basic Law is a national law institutionalising "one country, two systems".
At a dialogue session, Secretary for Justice Teresa Cheng talked about the 25 years of implementation of the Basic Law.
Former Permanent Judge of the Court of Final Appeal Henry Litton also took part in the event, giving a speech on the interpretation of the Basic Law.
Panel discussions were held afterwards in which renowned speakers from different sectors and academia held discussions on topics such as the joint force of the enactment of the National Security Law and the improvement of the electoral system as well as Hong Kong's vibrant capitalist system guaranteed by the Basic Law.