Restaurant ventilation checked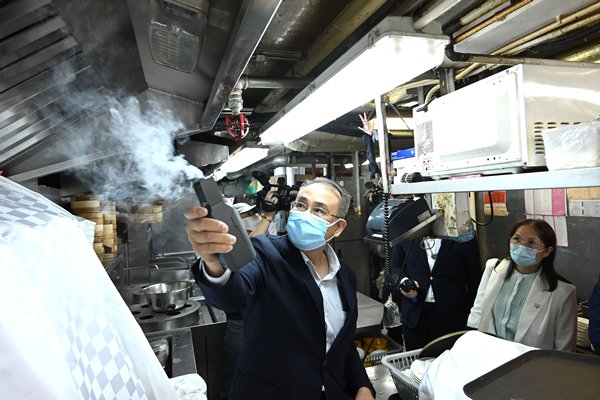 The working group concerning the requirement on air change or air purifiers to be complied with by dine-in catering premises inspected a Sheung Wan restaurant where a cluster of infection cases had earlier emerged.
The working group was established for the smooth implementation of such a requirement stipulated by the Secretary for Food & Health in March last year in the directions in relation to catering business under the relevant regulation on disease prevention and control.
It conducted the inspection yesterday evening along with representatives of the Food & Environmental Hygiene and the Electrical & Mechanical Services departments, to learn about the improvement works the restaurant has made in relation to its ventilation systems since the cluster was reported.
The restaurant operator told the working group that the restaurant had suspended its business operation upon notification from the Centre for Health Protection.
Apart from cleaning and disinfection of the premises, repair works were carried out by the contractors on the ventilation system to improve the ventilation situation and reduce the risk of virus transmission.
The working group's chairman Prof Yuen Pak-leung reminded catering premises operators to proactively check their restaurants' ventilation systems, so as to ensure sufficient fresh air supply and even coverage of all areas.
This has become all the more important with the third-stage relaxation in social distancing measures approaching, he added.