80k counterfeit goods seized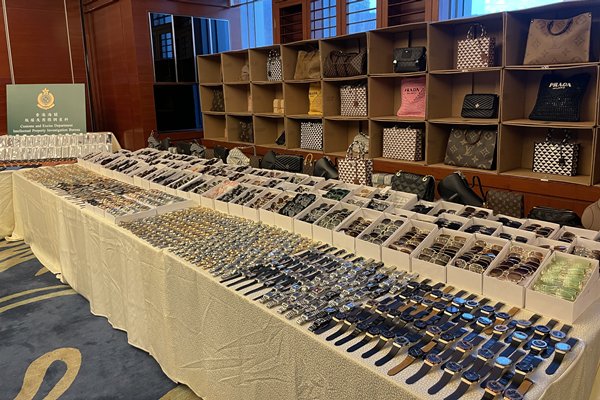 Customs seized about 80,000 suspected counterfeit items with an estimated market value of more than $22 million and arrested five people during an operation against cross-boundary shipment and the local sale of fake goods.
The seized goods included watches, mobile phone accessories, sunglasses and fashion accessories.
Codenamed "Tracer II", the operation was conducted from April 26 to May 9.
By gathering intelligence, Customs officers identified about 30 logistics companies in Yuen Long, Tsing Yi and Kwai Chung and performed strike-and-search operations. About 78,000 suspected counterfeit goods, worth an estimated value of about $21 million, were seized.
After a follow-up investigation, the department believed that some of the suspected counterfeit goods would have been sold locally while the rest were for re-export to overseas destinations. It subsequently mounted two controlled delivery operations.
During one of the operations on April 26, Customs officers raided a suspected counterfeit sports footwear retail shop in an industrial building in Kwun Tong. They seized about 880 suspected counterfeit items with an estimated market value of about $960,000 and arrested four men.
Officers then arrested a female consignee in a Grade A office unit in Tsuen Wan on May 4 and seized 19 items of suspected counterfeit handbags, clothes and accessories with an estimated value of about $10,000.
The five arrestees, aged 25 or 26, have been released on bail and an investigation is ongoing.
Customs said it will continue to step up stringent inspections and enforcement to vigorously combat counterfeiting activities.
People may call 2545 6182 or send an email to the department to report suspected counterfeiting activities.