674 cases found in restricted areas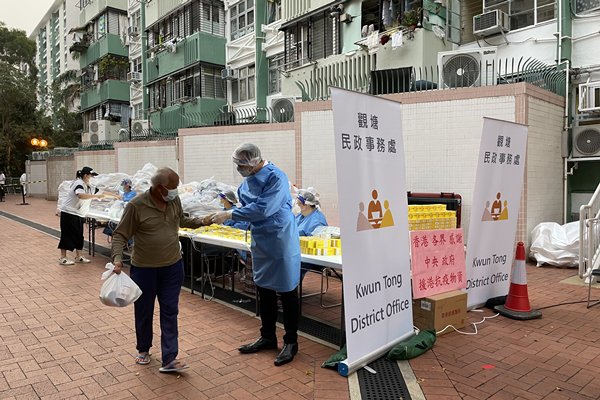 The Government today announced that 674 preliminary positive COVID-19 cases were found in the compulsory testing exercises for the restricted areas in Kwai Chung, Tuen Mun, Tseung Kwan O, Wong Tai Sin, Kwun Tong and Aberdeen.
It made a restriction-testing declaration yesterday for Fu Pong House and Fu Man House of Tai Wo Hau Estate in Kwai Chung where 710 and 790 people were tested in the two housing blocks, with 55 and 45 preliminary positive cases were identified.
In Tuen Mun at Block 4 of Po Tin Estate and Tip Sum House of Butterfly Estate, 800 and 1,080 people of the two blocks underwent a test and 61 and 131 preliminarily tested positive for COVID-19.
Regarding Kin Ching House of Kin Ming Estate in Tseung Kwan O, 91 initially positive cases were found after testing 1,700 people.
At Kai Fai House of Choi Wan (II) Estate in Wong Tai Sin where 1,687 people took a virus test, 165 preliminary positive cases were detected.
Meanwhile, at Ping On House, Tai On House and Yee On House of Wo Lok Estate in Kwun Tong, 63 out of the 480 people tested received preliminary positive results.
In Ap Lei Chau Estate at Lei Fook House, 63 initially positive cases were found after testing 1,540 people.
There were 95 indeterminate cases in the restricted areas, the Government added.