KS Wong visits restricted area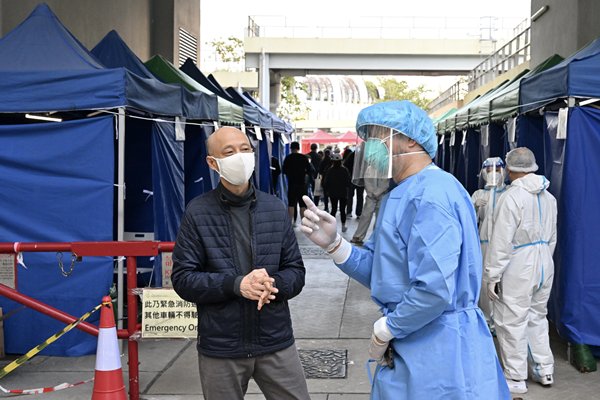 Secretary for the Environment KS Wong today said all members of the Environment Bureau (ENB) and the Environmental Protection Department (EPD) are united and fully committed to anti-epidemic efforts.
While the ENB works on the sewage surveillance programme, the EPD has mobilised about 30% of its staff members, involving over 800 people, to implement restriction-testing declaration (RTD) operations. Since the end of January, the ENB and EPD co-ordinated and conducted about 30 such operations in around five weeks, constituting more than one-third of all the RTD operations in city in the same period.
Yesterday, Mr Wong inspected the RTD exercise carried out by the EPD in Tak Shan House and Tak Kei House of Tak Long Estate in Kowloon City to show his support for colleagues.
Noting that over 3,600 people are living in the two buildings, he said: "Counting only the manpower from the EPD, we have mobilised around 100 staff members."
The staff had to conduct a site inspection one day before the operation and supervise the setup the next day, Mr Wong noted.
As the operation started, they arranged for thousands of residents to register and undergo testing. Anti-epidemic proprietary Chinese medicines donated by the central government, rapid antigen test kits and food packs were also distributed.
Furthermore, upon completion of the RTD operations, the staff have to arrange to send those who tested preliminary positive to isolation facilities as well as distribute extra food packs and daily necessities to assist those under home quarantine.
"The entire operation, including transmission of preliminary positive cases to isolation facilities, usually takes over 30 hours.
"I would like to express my gratitude to our staff members who work on the frontline and show their unwavering efforts in conducting the RTD operations in addition to their daily work, fully demonstrating team spirit. I would also thank those subject to compulsory testing for their support and understanding."
The environment chief also said the EPD workers draw on their professional knowledge to launch Hong Kong's sewage surveillance plan. The 400-member sewage testing team formed by the EPD, the Drainage Services Department and the University of Hong Kong has been working to apply scientific knowledge to help fight the epidemic.
At the same time, the department's environmental science experts provide professional advice on virus transmission in the environment and utilise their skills in the fight against the epidemic.
Highlighting that with the central government's staunch support, the Hong Kong Special Administrative Region Government is making all-out efforts to fight the epidemic, Mr Wong said that the ENB and the EPD will continue to support the anti-epidemic work, including compulsory universal testing to be launched later.