Experts continue visit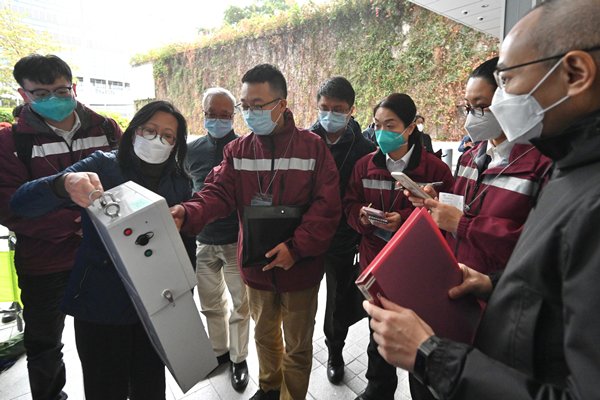 The Mainland epidemiological expert delegation today continued its visit by learning about the compulsory home quarantine arrangements and the sewage surveillance programme.
The expert delegation met and exchanged views with the representatives of the Office of the Government Chief Information Officer (OGCIO), the Home Affairs Department (HAD) and the Department of Health (DH) this morning.
The OGCIO introduced the technical support provided for the compulsory home quarantine arrangements, including the use of Bluetooth Low Energy electronic wristband pairing with the StayHomeSafe mobile application, to monitor people under compulsory home quarantine to ensure that they remain in the designated premises.
The HAD introduced the scope of services and mode of operation of the 24-hour hotline set up to support the StayHomeSafe Scheme. The HAD also briefed the delegation on the efforts made to appeal for the support from the property management sector to the scheme.
The delegation, accompanied by representatives of the DH, then visited the Quarantine Centre Task Force to learn about the quarantine and isolation work done by the Hong Kong Special Administrative Region Government.
In the afternoon, Secretary for the Environment KS Wong, together with representatives from the Environmental Protection Department and the Drainage Services Department (DSD), as well as the University of Hong Kong, briefed the expert delegation on the scientific and technological basis and the continual development of the sewage surveillance programme.
The DSD also arranged an on-site demonstration of sewage sample collection at a temporary surveillance station.
Secretary for Food & Health Prof Sophia Chan said the Hong Kong SAR Government has mobilised all available manpower amongst different bureaus and departments to form a robust team to fight the epidemic.
She said the Government will carefully study and implement the recommendations offered by experts and manage the various aspects of the anti-epidemic work.