Legal organisation session continues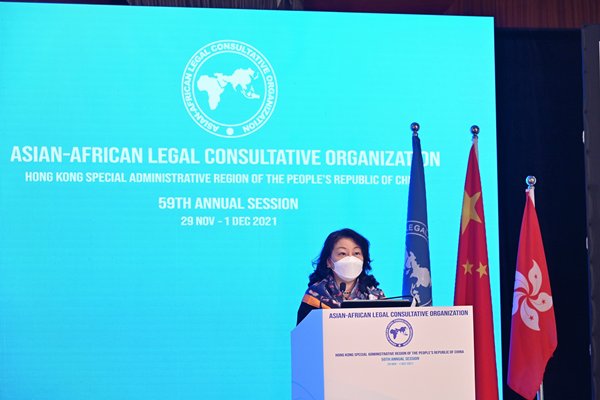 Secretary for Justice Teresa Cheng addressed a side event that promoted online dispute resolution before the 59th Annual Session of the Asian-African Legal Consultative Organization (AALCO) started its second-day session today.
Noting that the AALCO Hong Kong Regional Arbitration Centre has been established to promote the growth and effective functioning of online dispute resolution, Ms Cheng said the Hong Kong Special Administrative Region Government has been fostering the development of online dispute resolution on various fronts.
She cited the Hong Kong SAR Government's opting into the Asia-Pacific Economic Cooperation Collaborative Framework on online dispute resolution and the launch of the Inclusive Global Legal Innovation Platform on the same topic as examples.
Ms Cheng also introduced to the participants a workshop for Association of Southeast Asian Nations trade organised with the support of the ASEAN Secretariat during Hong Kong Legal Week 2021 earlier this month in which international experts discussed the importance of online dispute resolution for cross-border trade.
AALCO member states' delegations will continue to meet tomorrow with important international law topics in the Asian and African regions to be discussed.