Police hold passing-out parade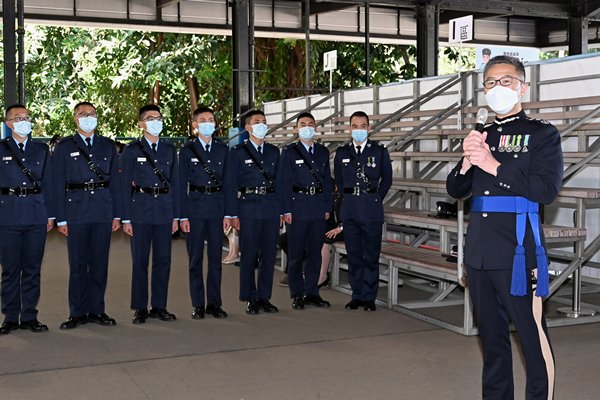 The Police College held a parade today to mark the passing-out of 24 probationary inspectors and 86 recruit constables.
Speaking at the ceremony, Commissioner of Police Siu Chak-yee called on the graduates to inherit the force's spirit of Serving Hong Kong with Honour, Duty and Loyalty.
He also encouraged them to continue safeguarding national security and maintaining social order in a professional manner.
Mr Siu noted that as the central government successively introduced the National Security Law and the improved electoral system, Hong Kong society has stepped out from chaos and stability has been restored.
Apart from continuing to guard against national security risks lurking in the city, the force is committed to improving social order and consolidating relations with all sectors, as well as gathering the support of every Hong Kong citizen.
The police chief cited Director of the Hong Kong & Macao Affairs Office of the State Council Xia Baolong who praised the Hong Kong Police Force as a team that "deserves the reputation of being the best Police Force in the world."
He encouraged the graduates to live up to the country's support and do their best to maintain national security as well as social order and rule of law in Hong Kong.
Mr Siu also paid tribute to Chief Inspector (Posthumous) Lam Yuen-yee who died heroically in September this year.