Health research symposium held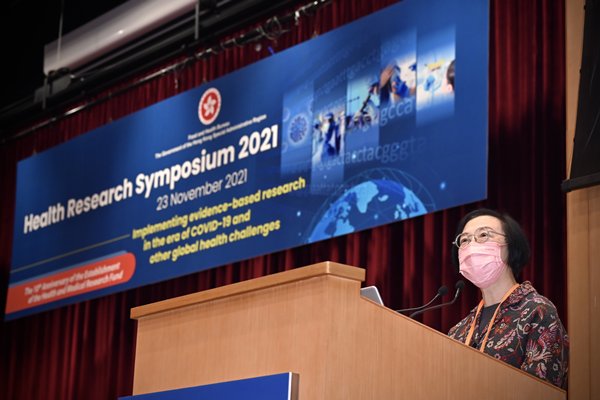 Over 800 medical and healthcare practitioners, academics, researchers, community representatives and the Government took part in the Health Research Symposium 2021 today.
Held with the theme of implementing evidence-based research in the era of COVID-19 and other global health challenges, the hybrid symposium also commemorated the 10th anniversary of the establishment of the Health & Medical Research Fund.
Secretary for Food & Health Prof Sophia Chan said at the symposium's opening ceremony that the fund successfully consolidated the different funding on health and medical research by the Government over the past 30 years.
"The Health & Medical Research Fund is uniquely positioned as the only local funding platform bridging the gap between benchtop research and clinical translation research findings.
"Its effectiveness derives from its collaborative support to locally based researchers and scientists from academia, frontline medical professionals from all disciplines and non-governmental organisations."
The Food & Health Bureau and the fund have approved over $500 million to support 67 COVID-19 research studies since April 2020. Many of these studies apply cutting-edge technologies to fill the knowledge gaps from bench to bedside to the community and better prepare Hong Kong for the pandemic's recovery stage.
At the symposium, 20 leading local project teams from various health-related disciplines shared their experiences and outcomes of their projects on combating COVID-19 and preparedness for the next pandemic, and implementing research findings in clinical practice and primary healthcare.
Two categories of special honours, namely Outstanding Project Team on COVID-19 Research Awards and 10th Health & Medical Research Fund Anniversary Awards were presented during the forum.
Additionally, 10 awards were presented to researchers in recognition of their outstanding contributions to health and medical research, and health promotion.
Click here for details.